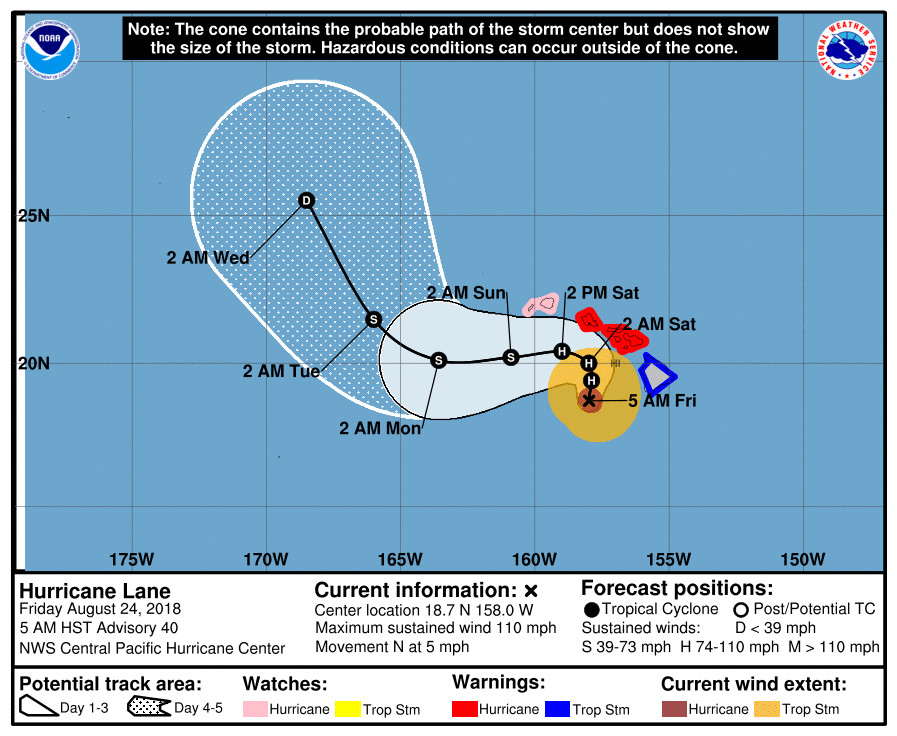 (BIVN) – A weakened Hurricane Lane is 145 miles west southwest of Kailua-Kona, but it continues to bring "catastrophic flooding" to the Big Island.
With maximum sustained winds near 110 mph, Lane is now category 2 hurricane on the Saffir-Simpson Hurricane Wind Scale. Lane is moving toward the north near 5 mph, and this general motion is expected to continue through tonight.
A Tropical Storm Warning is in effect for Hawaii Island, and a Flash Flood Warning persists for the east-sid of the county. According to the National Weather Service:
At 625 AM HST, radar and rain gages showed that rainfall has increased again over the east side of the Big Island from Honomu to lower Puna with rates of 1 to 2 inches per hour. Highway 19 remains closed near mile marker 6. Saddle Road remains closed near mile marker 10.5 due to a landslide. Flooding continues atKaiulani Street and along Palai Stream in Hilo. Rainfall is expected to continue through the morning.
"Lane is expected to produce total rain accumulations of 10 to 20 inches," the Central Pacific Hurricane Center said this morning, "with localized amounts up to 40 inches possible over portions of the Hawaiian Islands. Over 30 inches of rain has already fallen at a couple locations on the windward side of the Big Island."
Due to the flash flooding, Hawaii County Civil Defense says the following major roads are closed:
Highway 19 – both lanes are closed at mile marker 6
Highway 270 (Kohala Mountain Road) – mile marker 13
Saddle Road is now partially open between the 8 and 12 mile markers. Traffic is alternating one lane, following a pilot car.
"Numerous secondary roads in Hilo, Puna, and Hamakua are closed so stay alert," civil defense says. "Multiple other landslides are occurring on Highway 19 and other closures can occur without notice."
The following secondary road closures are in effect as of 6:00am:
Akolea Wooden Bridge
Bayfront Highway
East Kawailani Street from Awapuhi to Nohona Street
Kaalaiki Road in Kau, just above Naalehu
Kaiulani Street (Reeds Island)
Kapuna Street (Ahualoa)
Kukila Street between Railroad and Pohaku
Kamehameha Avenue, Ponahawai to Manono
Laupahoehoe Point Road
Lehua Street (Honokaa)
Old Mamalahoa in Honomu (past the gym)
Pohaku from 39th to 40th in Orchidland Estates
Pauahi Street Bridge
Piihonua Wooden Bridge
Rainbow Drive
South Point Road from Kamaoa Junction to South Point
Wainaku Street
Wainuenue Ave above Akolea Road
Waipio Valley Road
From the 5 a.m. HST Central Pacific Hurricane Center discussion:
Hurricane Lane continues to signs of slow weakening due to wind shear of 20 to 30 knots from the southwest according to the latest SHIPS and UW-CIMSS analyses. There is no eye evident in satellite imagery, which is likely a result of these hostile conditions. Radar reflectivity data from the WSR-88D radars at Molokai and Kohala show the center is becoming disrupted. The latest satellite intensity estimates from HFO, JTWC, TAFB and SAB were a unanimous T5.0/90 knots, while the UW-CIMSS ADT was T5.4/100 knots. Based on a blend of these estimates, the current intensity has been lowered to 95 knots.

Lane began to turn northward Thursday evening, and the current motion is 360/4 knots. Lane continues to be steered toward the north along the western side of a mid-level ridge, which is located to the east of Hawaii. The consensus guidance continues to show a northward motion, or even a motion toward just east of due north, as the ridge builds south of Lane. The latest track has shifted to the right of the previous forecast through the next 36 hours. This more closely follows the latest consensus track guidance. Note that on this track, Hurricane Lane continues to approach the central Hawaiian Islands, so there is no reason to believe that anyone is safe in the warning area. Assuming Lane begins to weaken, and decouple before, or after, it hits the islands, the cyclone is forecast to come increasingly under the influence of the low-level easterlies and begin tracking westward. Again, the exact time when this will occur remains highly uncertain, and only a small delay in this decoupling could bring Lane farther north. This would produce considerably worse conditions over the islands. Even if Lane remains along theforecast track, significant impacts are expected in the Hawaiian Islands.

Our intensity forecast shows some additional weakening, but continues to trend on the high side of most of the intensity guidance through 72 hours due to the resilience Lane has shown during the past few days. Note that the CIRA analysis of Ocean Heat Content along the latest forecast track continues to show very high values during the next 24 hours or so. This will likely help maintain the intensity longer than might be expected with such strong shear. By early next week, it is possible that Lane will not survive the shear, and may become a remnant low by day 5.

KEY MESSAGES:

1. It is vital that you do not focus on the exact forecast track or intensity of Lane, and remain prepared for adjustments to the forecast. Although the official forecast does not explicitly indicate Lane's center making landfall over any of the islands, this remains a very real possibility. Even if the center of Lane remains offshore, severe impacts could still be realized as they extend well away from the center.

2. Lane will pass dangerously close to the central Hawaiian Islands as a hurricane later today or tonight, and is expected to bring damaging winds. Terrain effects can cause strong localized acceleration of the wind through gaps and where winds blow downslope. These acceleration areas will shift with time as Lane passes near or over the islands. Winds will also be stronger at the upper floors of high rise buildings.

3. The slow movement of Lane also greatly increases the threat for prolonged heavy rainfall and extreme rainfall totals. This is expected to lead to catastrophic, life-threatening flash flooding and landslides over all Hawaiian Islands.

4. Life-threatening and damaging surf can be expected along exposed shorelines with localized storm surge exacerbating the impacts of a prolonged period of damaging surf. The prolonged period of large surf will also likely produce severe beach erosion.

FORECAST POSITIONS AND MAX WINDS

INIT 24/1500Z 18.7N 158.0W 95 KT 110 MPH
12H 25/0000Z 19.4N 157.9W 90 KT 105 MPH
24H 25/1200Z 20.0N 158.0W 75 KT 85 MPH
36H 26/0000Z 20.4N 159.0W 65 KT 75 MPH
48H 26/1200Z 20.2N 160.9W 60 KT 70 MPH
72H 27/1200Z 20.1N 163.6W 50 KT 60 MPH
96H 28/1200Z 21.5N 166.0W 35 KT 40 MPH
120H 29/1200Z 25.5N 168.5W 30 KT 35 MPH