(BIVN) – A weakening Hurricane Norman is 280 miles northeast of Hilo and continues moving away from the state to the northwest, but concern is growing that the next storm, Hurricane Olivia, will make its way towards Hawai'i.
Olivia is a major hurricane, located 1,465 miles northeast of Hilo. Maximum sustained winds have decreased to near 115 mph with higher gusts. A slow weakening trend is expected during the next few days, the National Hurricane Center reports, as Olivia moves toward the west-northwest through Saturday. Then, a gradual turn toward the west is expected Saturday night or Sunday.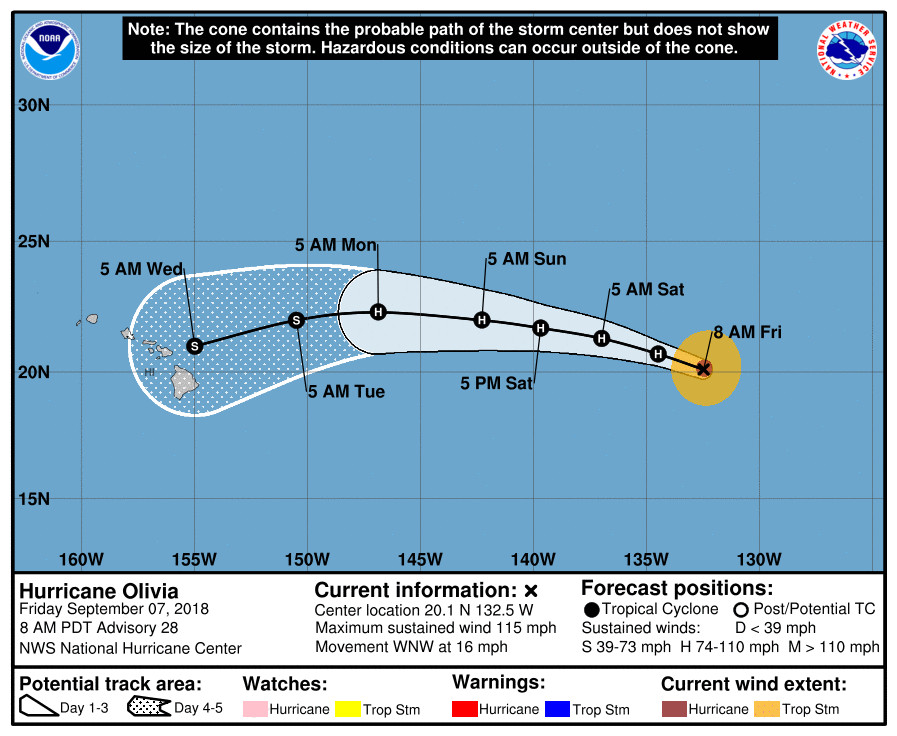 "The latest advisory from the National Hurricane Center (NHC) has Olivia positioned within a couple of hundred miles to the northeast of Hilo Tuesday evening as a strong tropical storm (65 mph) tracking toward the west," the National Weather Service in Honolulu stated this morning. "Guidance supports Olivia continuing on a general westward track through the region Tuesday night through Wednesday night."
"Although it is too early to pinpoint any details with regard to specifics related to potential impacts to the islands," the Honolulu-based forecasters said, "forecast confidence is increasing each day as the guidance remains in very good agreement."
From the National Hurricane Center discussion at 5 a.m. HST:
Although Olivia is still a major hurricane, the cloud tops have warmed some over the past several hours and the eye is not quite as distinct as it was overnight. All of the satellite intensity estimates have decreased this cycle, and the initial intensity is lowered to 100 kt using that data. Satellite data indicate that Olivia is an annular hurricane with a well organized inner core, butwith a lack of outer banding features.

The hurricane is moving west-northwestward at 14 kt. The track forecast philosophy appears fairly straightforward. Olivia is expected to move westward to west-northwestward during the next few days as it remains steered by a subtropical ridge to its north. By the end of the forecast period, a turn to the west-southwest is expected as ridging builds to the northwest of the cyclone. The NHC track forecast remains near the middle of the guidance envelope, in best agreement with the consensus aids. Based on this forecast, Olivia is expected to cross into the central Pacific basin by late Saturday.

Olivia is over cool 25-26 deg C waters, and it will remain over these waters during the next several days. These marginal SSTs combined with drier air should cause a slow weakening trend through the forecast period. However, as mentioned in previous discussions, research has proven that annular hurricanes like Olivia weaken slower than normal in these types of conditions. Therefore, the NHC intensity forecast shows a slower rate of weakening than the IVCN and HCCA models.

FORECAST POSITIONS AND MAX WINDS

INIT 07/1500Z 20.1N 132.5W 100 KT 115 MPH
12H 08/0000Z 20.7N 134.5W 90 KT 105 MPH
24H 08/1200Z 21.3N 137.0W 80 KT 90 MPH
36H 09/0000Z 21.7N 139.7W 75 KT 85 MPH
48H 09/1200Z 22.0N 142.3W 70 KT 80 MPH
72H 10/1200Z 22.3N 146.9W 65 KT 75 MPH
96H 11/1200Z 22.0N 150.5W 60 KT 70 MPH
120H 12/1200Z 21.0N 155.0W 55 KT 65 MPH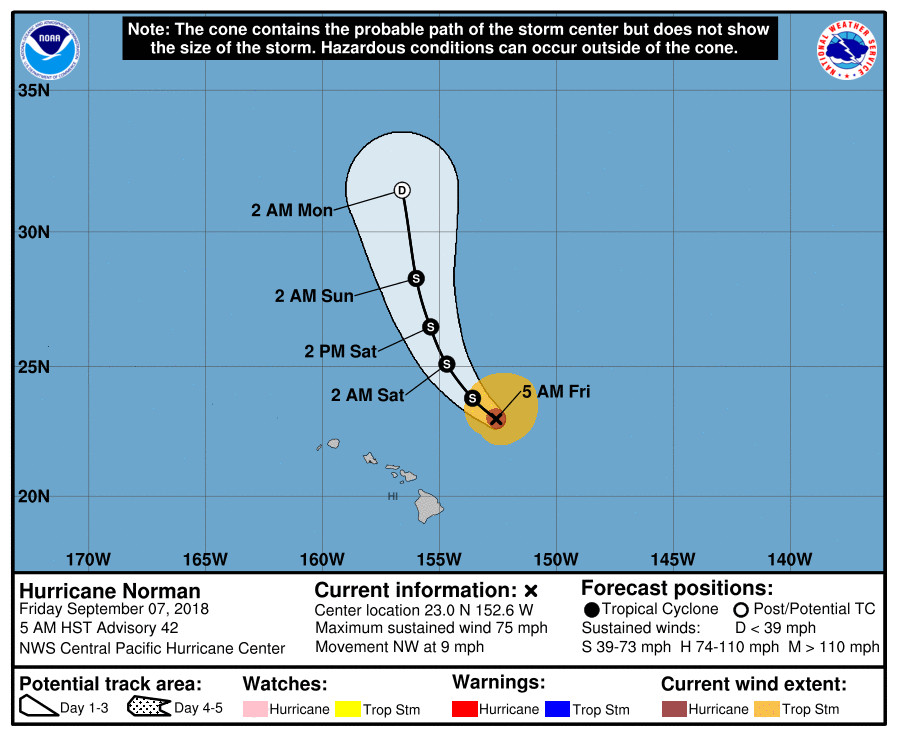 A large swell generated by Norman will continue across the main Hawaiian Islands today, causing large and potentially dangerous surf along east facing shores. A High Surf Warning remains in effect for east facing shores. Unlike yesterday, Hawaii County Civil Defense did not say any beach closures were in effect in a Friday morning message.