(BIVN) – Tropical Storm Olivia was lurking 80 miles north northeast of Hilo as of 11 p.m., moving west southwest at 8 mph. Maximum sustained winds are near 45 mph (75 km/h) with higher gusts.
Some weakening is forecast during the next 48 hour, but Olivia is expected to remain a tropical storm for the next day or so, according to the Central Pacific Hurricane Center, which says "a general west-southwest motion and a gradual increase in forward speed is expected overnight as the center of Olivia approaches Maui and the Big Island. After Olivia moves past the islands, a somewhat faster west-southwest motion is expected to resume and continue for the next couple of days."
A Tropical Storm Warning is still in effect for Hawaii Island.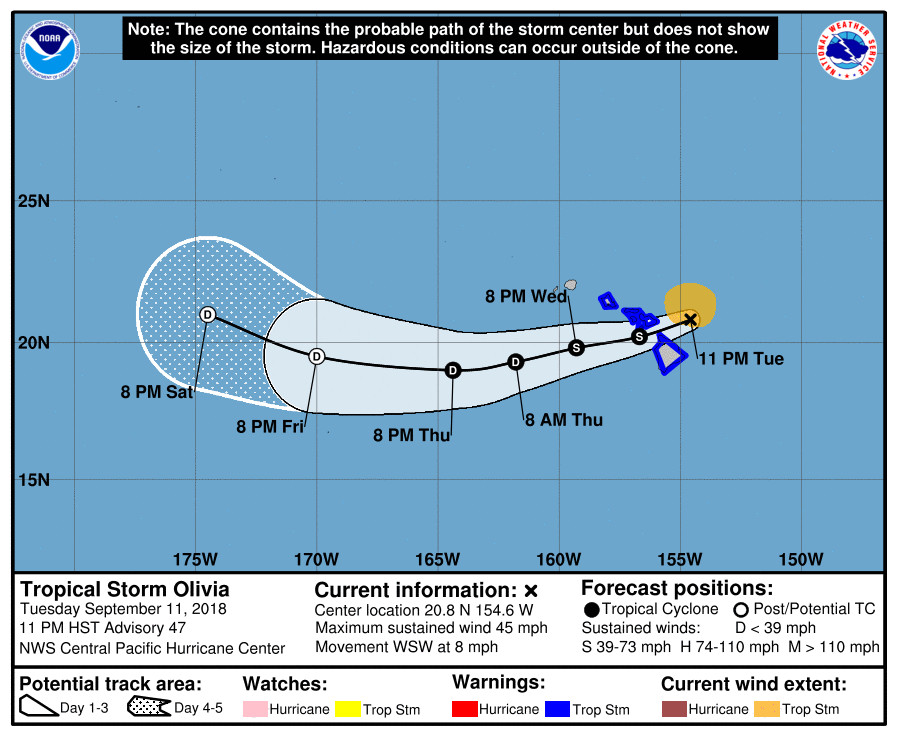 Weather forecasters still expect to see the following hazards affecting land:
WIND: Tropical storm conditions are expected over portions of Maui County and the Big Island overnight and Wednesday. Tropical storm conditions are expected to begin over Oahu early Wednesday. Remember that wind gusts can be much stronger near higher terrain, and in the upper floors of high-rise buildings. Winds can also be especially gusty through gaps between mountains and where winds blow downslope.

RAINFALL: Showers will continue to increase over portions of the main Hawaiian Islands tonight and Wednesday. Olivia is expected to produce total rainfall accumulations of 5 to 10 inches in some areas, with isolated maximum amounts of 15 inches possible, especially in higher terrain. This rainfall may produce life-threatening flash flooding.

SURF: Large swells generated by Olivia will impact the main Hawaiian Islands over the next couple of days. This will result in dangerously high and potentially damaging surf, mainly along exposed east facing shores.
At 7 p.m., Hawaii County officials announced the closure of beach parks in North Kohala and Hamakua. Spencer, Mahukona, Kapaa, Keokea, and Laupahoehoe Point Beach Parks were closed until further notice.
The American Red Cross and the Department of Parks and Recreation also opened an emergency shelter at the Waimea Community Center. "This shelter is for your convenience," Hawai'i County Civil Defense said, adding "there is no mandatory evacuation at this time. If you choose to evacuate to a shelter, food and bedding are not provided."
The Department of Education reports that all schools on Hawai'i Island will be open tomorrow. According to the Hawaiʻi State Public Charter School Commission, Kua O Ka Lā New Century Public Charter School in Hilo and Laupāhoehoe Community Public Charter School will be closed tomorrow, Wednesday, September 12, 2018.
Also, Connections Public Charter School in Hilo will be closed tomorrow, as well.
From the 11 p.m. discussion by the Central Pacific Hurricane Center:
Olivia's low level circulation center (LLCC) continues to be exposed, with deep convection primarily located in the eastern semicircle due to strong westerly vertical wind shear. Subjective Dvorak current intensity estimates from PHFO/SAB/PGTW ranged from 2.0/30 kt to 3.0/45 kt. A blend of this data and an earlier ASCAT pass support lowering the initial intensity to 40 kt for this advisory.

The motion has been very erratic over the past 12 to 18 hours, and although unclear as to why, it appears to have been modulated by pulses in deep convection. When Olivia accelerated westward this morning, associated deep convection had dissipated, allowing the LLCC to be steered by the low-level trade winds. When deep convection redeveloped this afternoon, the forward motion slowed markedly, allowing a deeper-layer flow to lead to a slower forward speed. The motion estimate for this advisory is 250/7 kt.

Erratic motion is likely to continue overnight as Olivia encounters terrain, but a general west-southwest motion is expected, with an increase in forward speed. If Olivia's LLCC survives the passage near the island terrain, the center is expected to continue moving toward the west-southwest through 48 hours. A more westward motion is expected to begin by 72 hours and beyond as the deep layer ridge west of Olivia weakens and an mid-level low digs southwest toward the cyclone.

Our intensity forecast operates under the assumption that the LLCC will be intact after emerging to the southwest of Maui and the Big Island. If this occurs, gradual weakening is expected to continue in line with all the guidance, which shows moderate to strong shear continuing through the forecast period. Olivia is still expected to become a remnant low within 72 hours, with dissipation expected by day 5, but there is a decent chance this will happen even sooner.

Key Messages:

1. Although Olivia is weakening, flooding rainfall, high surf, and damaging winds are expected in the warning area. Significant impacts can occur well away from the center, especially when considering that the mountainous terrain of Hawaii can produce localized areas of strongly enhanced wind gusts and rainfall.

FORECAST POSITIONS AND MAX WINDS

INIT 12/0900Z 20.8N 154.6W 40 KT 45 MPH
12H 12/1800Z 20.2N 156.7W 40 KT 45 MPH
24H 13/0600Z 19.8N 159.3W 35 KT 40 MPH
36H 13/1800Z 19.3N 161.8W 30 KT 35 MPH
48H 14/0600Z 19.0N 164.4W 30 KT 35 MPH
72H 15/0600Z 19.5N 170.0W 30 KT 35 MPH…POST-TROP/REMNT LOW
96H 16/0600Z 21.0N 174.5W 30 KT 35 MPH…POST-TROP/REMNT LOW
120H 17/0600Z…DISSIPATED

$$
Forecaster Birchard