(BIVN) – Winds are picking up over areas of Hawai'i as the center of Tropical Storm Olivia is approaching Maui County and the Big Island.
As of 5 p.m. HST, Olivia was moving toward the west near 15 mph with maximum sustained winds near 50 mph (85 km/h) with higher gusts.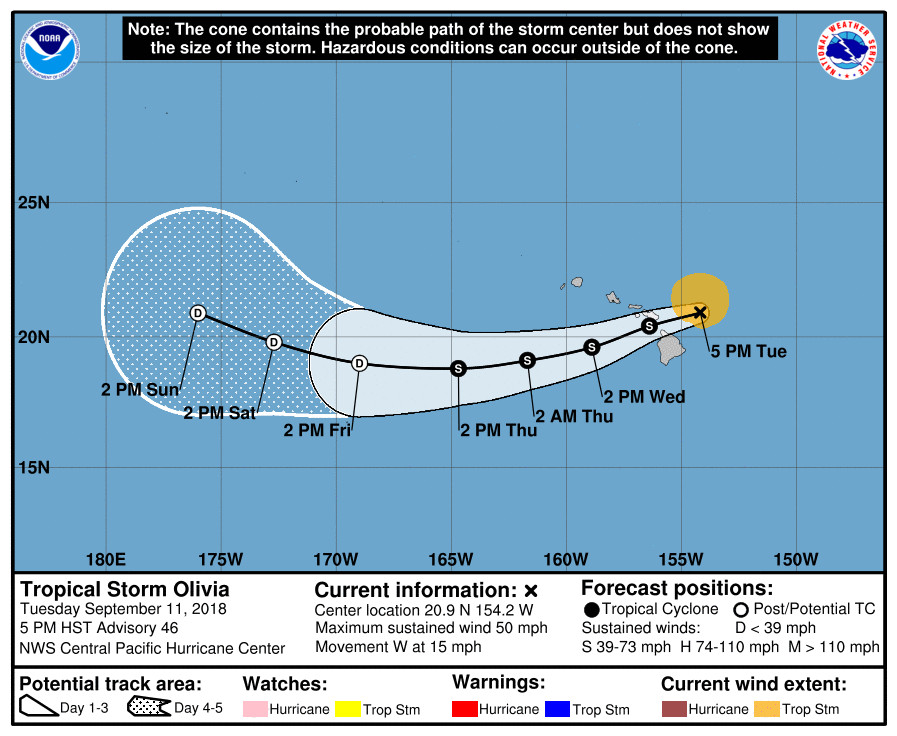 "A general west-southwest motion with a slower forward speed is expected this evening as the center of Olivia approaches Maui and the Big Island," forecasters say. "After Olivia moves past the islands, a somewhat faster west- southwest motion is expected to resume and continue for the next couple of days."
Hawai'i Island is currently under a Tropical Storm Warning. A Flash Flood Watch is also in effect. East facing shores are under a High Surf Warning.
According to 5 p.m. update from the Central Pacific Hurricane Center, potential hazards affecting land are:
WIND: Tropical storm conditions are expected over portions of Maui County and the Big Island starting this evening. Tropical storm conditions are expected over Oahu starting tonight. Tropical storm conditions are expected over Kauai County starting Wednesday. Remember that wind gusts can be much stronger near higher terrain, particularly through gaps between mountains and where winds blow downslope.
RAINFALL: Showers will continue to increase over portions of the main Hawaiian Islands tonight and Wednesday. Olivia is expected to produce total rainfall accumulations of 5 to 10 inches in some areas, with isolated maximum amounts of 15 inches possible, especially in higher terrain. This rainfall may produce life-threatening flash flooding.
SURF: Large swells generated by Olivia will impact the main Hawaiian Islands over the next couple of days. This will result in dangerously high and potentially damaging surf, mainly along exposed east facing shores.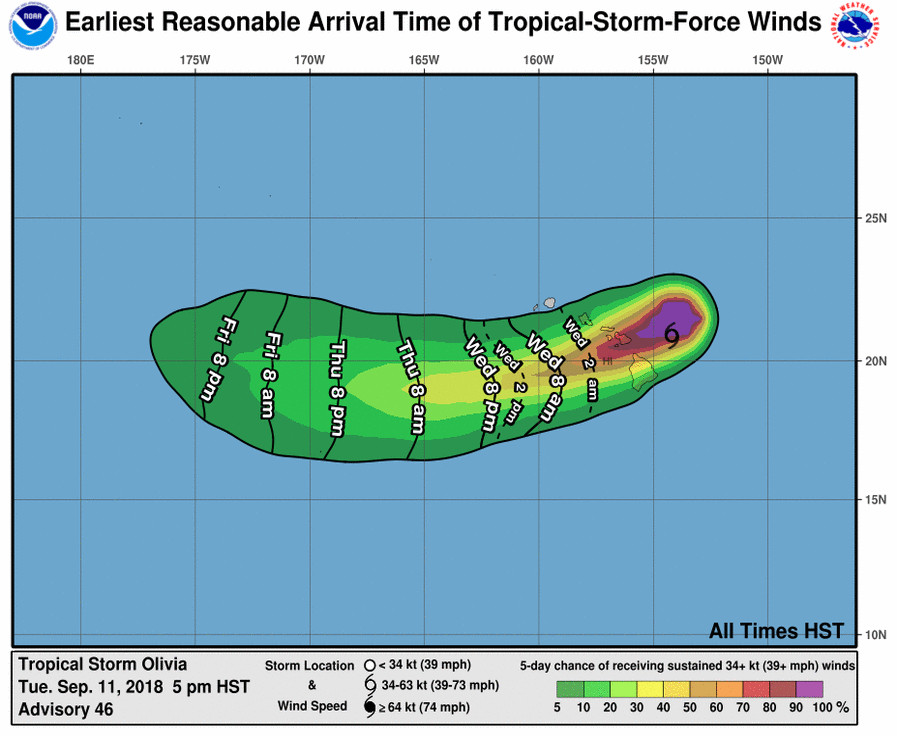 According to the Hawaii County Civil Defense:
The Department of Education reports that all schools on Hawaii Island will be open tomorrow
Hawaii Police Department reports all roads open at this time
All County and State parks are open at this time
Closures of parks and roadways may occur without notice
According to the Hawaiʻi State Public Charter School Commission, Kua O Ka Lā New Century Public Charter School in Hilo and Laupāhoehoe Community Public Charter School will be closed tomorrow, Wednesday, September 12, 2018, due to the potential impacts of Tropical Storm Olivia.
The Hawaii Department of Transportation says State of Hawaii airports will remain open unless there is damage to the runway or terminal facilities. The Ellison Onizuka Kona International Airport at Keahole may restrict passenger boarding and deplaning during high winds or heavy rains.
"Air travelers with confirmed tickets for travel into or out of Hawaii airports are encouraged to check with their airline for potential flight delays, cancelations, or travel waivers before going to the airport," HDOT says. "Hilo International Airport, Kahului Airport, the Daniel K. Inouye International Airport, and Lihue Airport have activated their visual paging systems to alert incoming passengers to the warnings associated with Tropical Storm Olivia."
Commercial Harbors statewide have been placed in Zulu by the United States Coast Guard Captain of the Port, HDOT says. Port Condition Zulu is set within 12 hours of the expected onset of tropical storm (or gale force) winds. During Zulu, all movements within commercial harbors require approval of the Captain of the Port.
According to the 5 p.m. discussion posted by the Central Pacific Hurricane Center:
Olivia's low level circulation center (LLCC) continues to outrun the bands of deep convection now well to the east of the center. Without any new deep convection near the center, the wind field continues to gradually spin down. However, the 53rd Weather Reconnaissance Squadron found SFMR winds of 42 kt in the northeast quadrant. Thus, the current intensity has been lowered to 45 kt for this advisory. This also agrees well with an earlier 1939 UTC ASCAT pass that covered part of the tropical cyclone.

The motion has been very erratic today. As the LLCC decoupled from the deep convection, it accelerated rapidly westward. Since about 2000 UTC, this motion has been quite a bit slower and toward the southwest. Averaging this out to a representative motion gives 260/13. Erratic motion is likely to continue overnight as the now shallow circulation of Olivia encounters terrain, but a general west-southwest motion is expected. If Olivia's LLCC survives the passage near the island terrain (and this is a big if), the center is expected to continue moving toward the west-southwest through 48 hours. A more westward motion is expected to begin by 72 hours and beyond as the deep layer ridge west of Olivia weakens and an mid- level low digs southwest toward the cyclone.

Our intensity forecast operates under the assumption that the low level circulation center will be intact after emerging to the southwest of Maui and the Big Island. If this occurs, gradual weakening is expected to continue in line with all the guidance which shows moderate to strong shear continuing through the forecast period. Olivia is expected to become a remnant low within 72 hours, but there is a decent chance this will happen even sooner.

Key Messages:

1. As Olivia moves across the main Hawaiian Islands, it still bring worse impacts than recent Hurricane Lane to some areas. Those impacts could include flooding rainfall, damaging winds, and large and dangerous surf.

2. Significant impacts can occur well away from the center. In particular, the mountainous terrain of Hawaii can produce localized areas of strongly enhanced wind gusts and rainfall.

FORECAST POSITIONS AND MAX WINDS

INIT 12/0300Z 20.9N 154.2W 45 KT 50 MPH
12H 12/1200Z 20.4N 156.4W 45 KT 50 MPH
24H 13/0000Z 19.6N 158.9W 40 KT 45 MPH
36H 13/1200Z 19.1N 161.7W 35 KT 40 MPH
48H 14/0000Z 18.8N 164.7W 35 KT 40 MPH
72H 15/0000Z 19.0N 169.0W 30 KT 35 MPH…POST-TROP/REMNT LOW
96H 16/0000Z 19.8N 172.7W 30 KT 35 MPH…POST-TROP/REMNT LOW
120H 17/0000Z 20.9N 176.0W 30 KT 35 MPH…POST-TROP/REMNT LOW

$$
Forecaster R Ballard