(BIVN) – Tropical Storm Walaka has formed 650 miles south of Honolulu, Hawaiʻi, and is moving away towards the west, the National Weather Service reports.
"The tropical disturbance passing far south of the main Hawaiian Islands has developed persistent deep convection near the center with a banding feature developing within the eastern and southern quadrants," the Central Pacific Hurricane Center announced at 11 a.m. HST on Saturday.
"A westward motion will continue for the next 36 hours or so as the system remains south of a deep ridge," the CPHC said. "This will take Walaka well southwest of the main Hawaiian Islands. Late Sunday through Monday night, the cyclone will make a gradual turn toward the northwest then north as a deep North Pacific trough digs southward and steadily erodes the ridge. As a result, Walaka will pass very close to Johnston Island as early as Monday night and likely sometime Tuesday."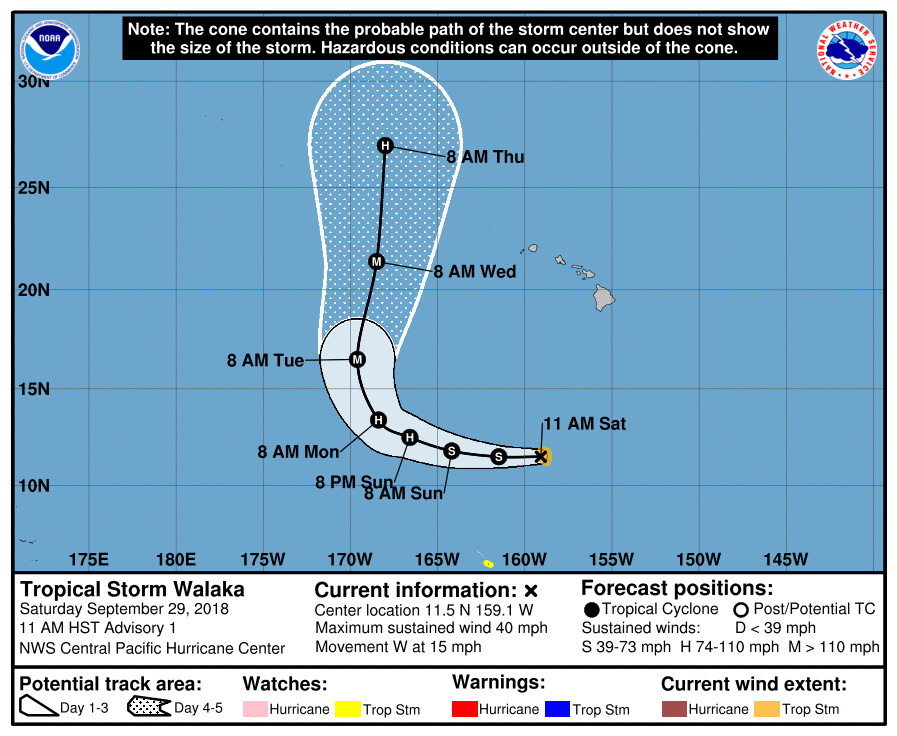 Walaka is expected to strengthen, and the storm could rapidly intensify into a major hurricane. The storm will remain under low vertical wind shear, forecasters say, and will be over sea surface temperatures of around 29C through at least Monday, and likely into Tuesday.
There are no coastal watches or warnings in effect for Hawaiʻi and Walaka is not expected to impact the state.
Walaka is the sixth tropical cyclone of 2018 in the Central Pacific basin and the first to form in the basin this year, the National Weather Service says.