(BIVN) – A new storm has formed in the Pacific Ocean, and is expected to gather strength as it moves west.
Tropical Storm Barbara, the second named storm of the Eastern Pacific hurricane season, has formed. The previous storm, Alvin, has dissipated.
This morning, Tropical Storm Barbara is moving toward the west-northwest near 16 mph (26 km/h) and forecasters say this general motion is expected to continue over the next several days with a gradual decrease in forward speed.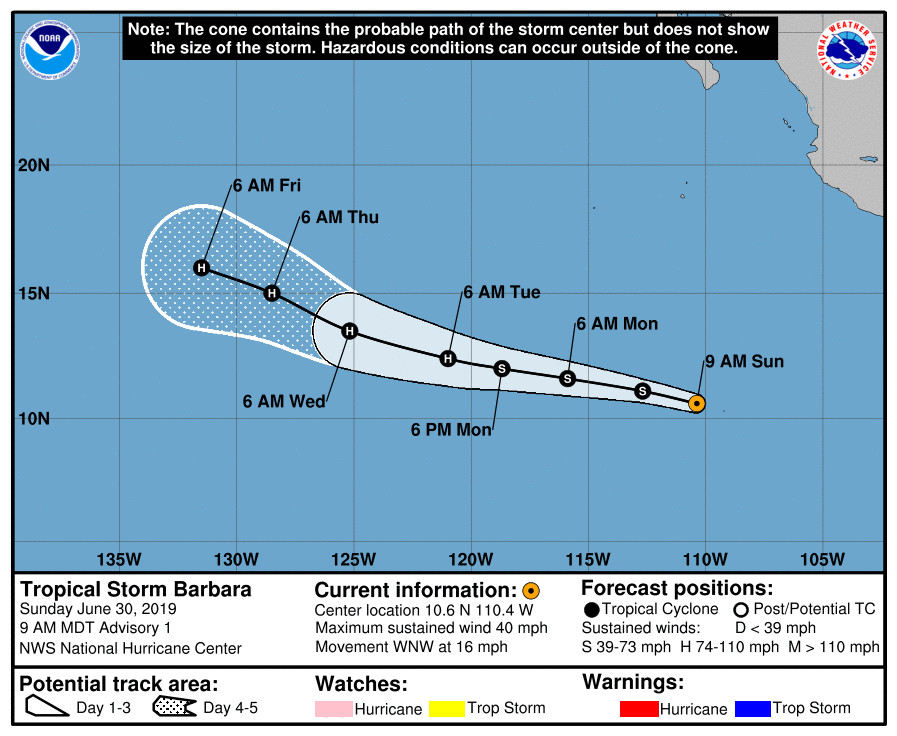 Currently, maximum sustained winds are near 40 mph (65 km/h) with higher gusts. The National Hurricane Center says steady strengthening is forecast and Barbara is expected to become a hurricane by Tuesday.
It is too early to say if Barbara will have any affect on Hawaiʻi weather. This morning's National Hurricane Center discussion indicates the storm will begin to gradually weaken as it enters the Central Pacific. From the discussion, posted by Forecaster Latto/Beven:
Satellite imagery indicates that the area of low pressure and associated convection located several hundred miles southwest of southern Mexico has become better organized, with the center embedded in the northern side of a large area of deep convection. In addition, earlier scatterometer data revealed that 35-kt winds existed in the eastern semicircle of the developing cyclone. This intensity is in agreement with the latest subjective satellite estimate from TAFB and thus advisories are started on Tropical Storm Barbara, the second named storm of the Eastern Pacific hurricane season.

Barbara's initial motion is 285/14 kt. A mid-level ridge to the north of the cyclone will steer it to the west-northwest for the next several days. Later on in the forecast period, Barbara will approach the southwestern periphery of the ridge which should induce some slowing of the forward motion. The NHC track forecast lies in the middle of a suite of guidance that is tightly clustered through 96 hours and begins to diverge slightly beyond that time frame.

The overall satellite presentation of Barbara suggests that there is some shear affecting the convection over the northern part of the cyclone. Statistical guidance concurs with this and indicates 10-15 kt of northwesterly shear currently over the circulation. This shear is forecast by the guidance to begin to abate in about 24 hours. Otherwise, Barbara is expected to be in a favorable environment for intensification and over warm waters for the next 4 to 5 days. The official forecast takes into account this initial shear during the early inner-core development stages of Barbara, and calls for a slow and steady strengthening through 24 hours. Thereafter, the lower-shear environment and likely consolidating inner-core should allow for a faster rate of intensification. The official forecast intensity is close to the dynamical guidance through 72 hours, and is near the upper edge of the guidance beyond 72 hours, bringing Barbara to category 2 intensity by 72 hours. After 96 hours, Barbara will be approaching a tight gradient in SSTs to its north. Also, both dynamical and statistical guidance indicate that the cyclone will be approaching a region with increasing southwesterly shear. Both of these factors should contribute to a gradual weakening after 96 hours.

FORECAST POSITIONS AND MAX WINDS

INIT 30/1500Z 10.6N 110.4W 35 KT 40 MPH
12H 01/0000Z 11.1N 112.7W 40 KT 45 MPH
24H 01/1200Z 11.6N 115.9W 45 KT 50 MPH
36H 02/0000Z 12.0N 118.7W 55 KT 65 MPH
48H 02/1200Z 12.4N 121.0W 65 KT 75 MPH
72H 03/1200Z 13.5N 125.2W 85 KT 100 MPH
96H 04/1200Z 15.0N 128.5W 90 KT 105 MPH
120H 05/1200Z 16.0N 131.5W 85 KT 100 MPH
Big Island Video News will be tracking Barbara as the storm develops.