(BIVN) – Days away from the start of construction of the Thirty Meter Telescope on Mauna Kea, opponents of the project have established a "safe sanctuary" at the base of Mauna Kea.
The landmark Puʻu Huluhulu on the Mauna Loa-side of Saddle Road, across from the turn off onto the Mauna Kea Access Road, has been proclaimed a puʻuhonua, according to HULI, the Hawaiʻi Unity and Liberation Institute.
Construction work on the TMT is set to begin on Monday, July 15. The state says the Mauna Kea Access Road will be closed that morning in order to allow equipment to travel up the steep, winding road to the summit.
HULI issued a news release on Saturday, "reporting over 150 Maunakea kiaʻi (protectors) have already set up camp at Puʻu Huluhulu." The group says it staked off a 5-plus acre area "to proclaim as a Puʻuhonua, or sanctuary and traditional space of safety and peace."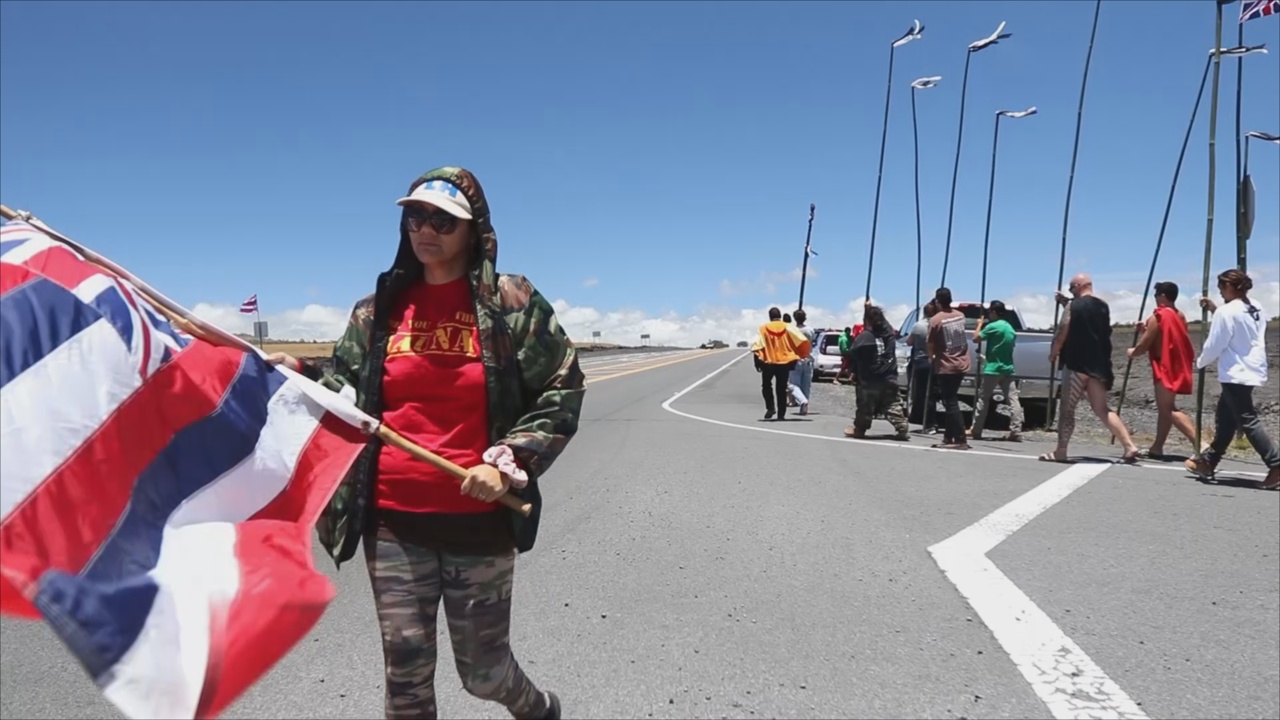 "We know that the State of Hawaiʻi is ramping up for what could possibly be the largest mobilization of law enforcement agencies in recent memory," said Kahoʻokahi Kanuha, a member of HULI and a leader in the Ku Kiaʻi Mauna movement. "Today was ultimately about the safety of our people," Kanuha said.
The HULI news release answered some questions raised about the establishment of the puʻuhonua, and the jurisdiction of the lands:
Puʻu Huluhulu is on Hawaiian Homes Trust Lands and is home to an ahu or alter that was erected in 1999 by the Royal Order of Kamehameha I, a royal society established over 150 years ago by Kamehameha V. This ahu, that sits right at the base of the mauna, was built as a safe place so that kupuna or elders who could not make the trek up to the summit but wanted to acknowledge the mauna in their own way in a sacred space could do so. Puʻu Huluhulu therefore makes for a very relevant and appropriate space for this puʻuhonua and this was at the core of the collaborative efforts that took place today between the kiaʻi and members of the Royal Order.
The Puʻu Huluhulu ʻahu was discussed during the testimony of Paul Neves during the TMT Contested Case hearing in 2017.
State officials told us the front half of Puʻu Huluhulu is DHHL, and the back half is DLNR.
The kiaʻi did some research into the tradition of proclaiming a puʻuhonua. Andre Perez said the process "required an aliʻi who had the authority to declare" the space. Given that this royal society has cared for the ahu for years and that they represent the legacy of Kamehameha I, the group concluded that, "the Royal Order of Kamehamehameha I would be appropriate to represent the aliʻi."