(BIVN) – Heavy rains and strong winds no longer appear to be a threat from passing Tropical Storm Erick, as the National Weather Service in Honolulu has cancelled the Flash Flood Watch and the High Surf Warning, and – as of this posting – is about to expire the Wind Advisory that was in place earlier today.
Tropical Storm Erick is now 240 miles southwest of South Point, and heading off toward the west-northwest at nearly 9 mph. Erick is expected to become a post-tropical remnant low by Saturday.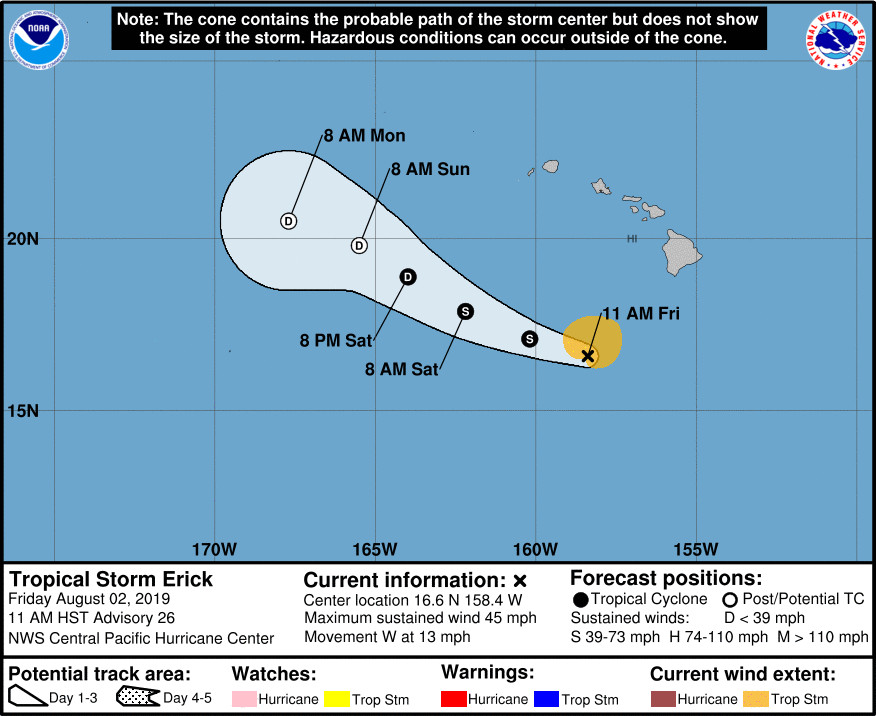 From the National Weather Service in Honolulu:
While the bulk of the rain remains south of the state, radar shows pockets of light stratiform rain along the northern periphery continue to track across Maui County and over the Big Island to a lesser extent. Thick, layered clouds persist across both counties this afternoon, with cirrus clouds along the northern edge of the band over Oahu.
The following information was provided by Hawaiʻi County Civil Defense:
Issac Hale Beach Park will open tomorrow at 9 a.m.
Whittington and Punaluʻu Beach parks opened at 3 p.m. today.
All camping permits and pavilion rentals for these parks are cancelled through the weekend.
South Point Road will be opened later today.
The Bayfront Parking lot on Kamehameha Avenue will remain closed until further notice. The Hele-On buses will pick-up passengers behind the Afook-Chinen Civic Auditorium.
As for Tropical Storm Flossie, the National Weather Service says:
As Erick departs, the focus will shift to Tropical Storm Flossie which is currently about 1150 miles east of Hilo moving towards the west northwest. The forecast track brings Flossie within 300 miles northeast of Hilo around Monday before shifting on a more northwesterly track away from the state. As there is still a good distance between the storm and the islands, it's hard to say how Flossie will impact the state Monday into Tuesday. As we are anticipating a more northerly turn during the first part of next week, Flossie will likely come between the subtropical high and Hawaii which will drastically weaken the winds over the islands next week. Expect several days of muggy weather and a convective land/sea breeze pattern as Flossie moves away.