(BIVN) – Flossie is still a tropical depression, 155 miles east of Hilo and moving toward the west-northwest near 15 mph. The forecast track shows Flossie passing just north of Hawaiʻi Island later today.
From the National Weather Service in Honolulu:
Tropical Depression Flossie continues to weaken as it approaches the Hawaiian Islands from the east. Flossie is currently centered roughly 200 miles east of Hilo and is moving west-northwest at 15 MPH. Flossie will bring up additional tropical moisture and instability into the islands, spreading rain showers from east to west across the state today through Wednesday morning. A subtropical jet stream over the islands, and an upper level trough northwest of the state will lift this unstable tropical air mass and produce widespread shower activity across the region over the next 48 hours. Significant impacts from Flossie include high surf along east facing shores, heavy rain, flash flooding, and thunderstorms. These impacts are expected to start this morning over the eastern slopes of the Big Island and Maui, then spread westward to a lesser degree over the smaller islands later this afternoon and evening. Forecast rainfall amounts will favor eastern slopes with 1 to 4 inches of rain forecast for the Big Island of Hawaii, and 1 to 3 inches of rainfall over the smaller islands from Maui to Kauai. We have high confidence in this developing wet weather pattern as global weather models remain in good agreement with these rainfall impacts as Flossie passes just north of the island chain. A Flash Flood Watch remains in effect for the Big Island and Maui through late tonight. This watch may need to be expanded as Flossie moves through the region.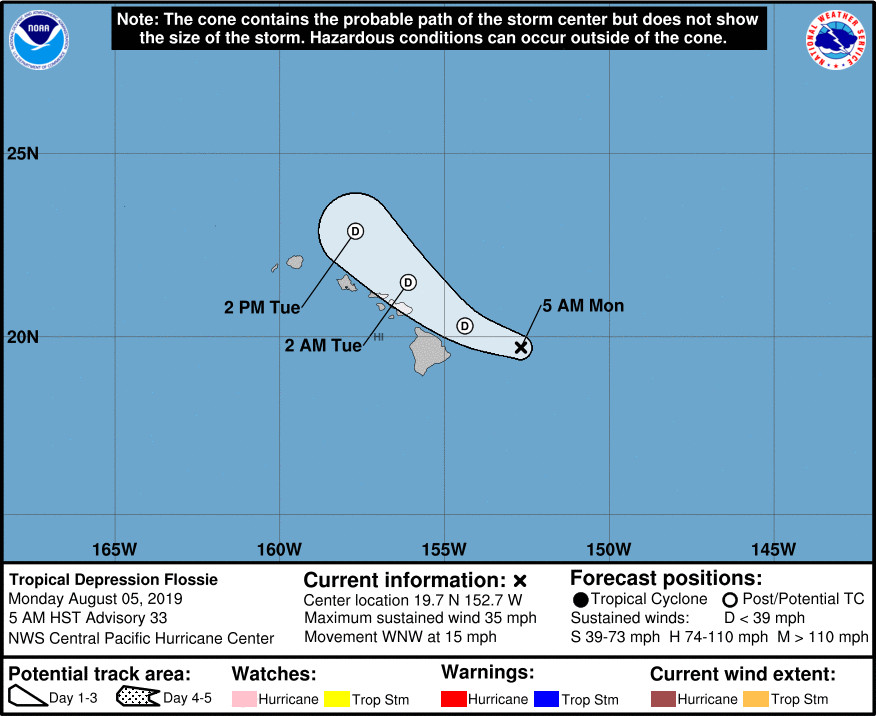 While the Flash Flood Watch continues for Hawaiʻi Island, the High Surf Warning for east-facing shores has been downgraded to a High Surf Advisory.
"We can expect localized heavy rain, flash flooding, gusty winds and thunderstorms across the island today, so please drive carefully and be alert for changing weather conditions," the Hawaiʻi County Civil Defense said in its morning message, adding that the following public safety measures are in effect:
Seek shelter immediately if you see lightning or hear thunder.
Do not enter fast moving water on roadways.
All County beach parks are open, but may close at any time due to dangerous weather conditions.
The Bayfront Parking lot on Kamehameha Avenue will remain closed until further notice.
The Hele-On buses will continue to pick-up passengers behind the Afook-Chinen Civic Auditorium.
From the Central Pacific Hurricane Center in Honolulu, posted at 5 a.m. HST:
A few bursts of deep convection have developed well to the north of the low-level circulation center (LLCC) of Flossie early this morning. The LLCC itself has been exposed for nearly 24 hours however, due to strong west-southwesterly vertical wind shear, analyzed to be around 30 knots. The latest subjective Dvorak current intensity estimate from PHFO was 2.0 (30 knots). The Advanced Dvorak Technique (ADT) current intensity estimate was 1.5 (25 knots). The initial intensity for this advisory has been held at 30 knots. The initial motion has been set at 285/13 knots.

Flossie is expected to make a turn toward the northwest with a slight decrease in forward speed later today as it rounds the southwestern periphery of a large subtropical ridge to the distant northeast. This general motion is then expected to continue through dissipation late Tuesday or Tuesday night. The latest track guidance has shifted to the north, and as a result, the official forecast track was adjusted slightly to the north of the previous advisory. This will bring the center of Flossie or its remnant low, very close to the main Hawaiian Islands later today through Tuesday.

Strong westerly vertical wind shear of 30 to 40 knots will continue to affect Flossie over the next couple days, inhibiting any intensification or re-organization of the tropical cyclone. Although brief bursts of deep convection will likely continue during the next couple days, Flossie is expected to become a post-tropical remnant low later today, with dissipation expected late Tuesday or Tuesday night. The official intensity forecast remains closely in line with the latest statistical and dynamical guidance.

Interests in the main Hawaiian Islands should refer to products issued by the National Weather Service in Honolulu for information on flooding and surf impacts from Tropical Depression Flossie.

FORECAST POSITIONS AND MAX WINDS

INIT 05/1500Z 19.7N 152.7W 30 KT 35 MPH

12H 06/0000Z 20.3N 154.4W 30 KT 35 MPH…POST-TROP/REMNT LOW

24H 06/1200Z 21.5N 156.1W 30 KT 35 MPH…POST-TROP/REMNT LOW

36H 07/0000Z 22.9N 157.7W 30 KT 35 MPH…POST-TROP/REMNT LOW

48H 07/1200Z…DISSIPATED