(BIVN) – Major Hurricane Marie, currently 1,980 miles east of Hilo out in the middle of the Eastern Pacific, is not expected to threaten Hawaiʻi in the days ahead.
The category 4 hurricane on the Saffir-Simpson Hurricane Wind Scale presently has maximum sustained winds near 130 mph (215 km/h) with higher gusts. The National Hurricane Center in Miami says some fluctuations in intensity are possible through tonight, followed by weakening beginning on Saturday, a trend that will continue into early next week.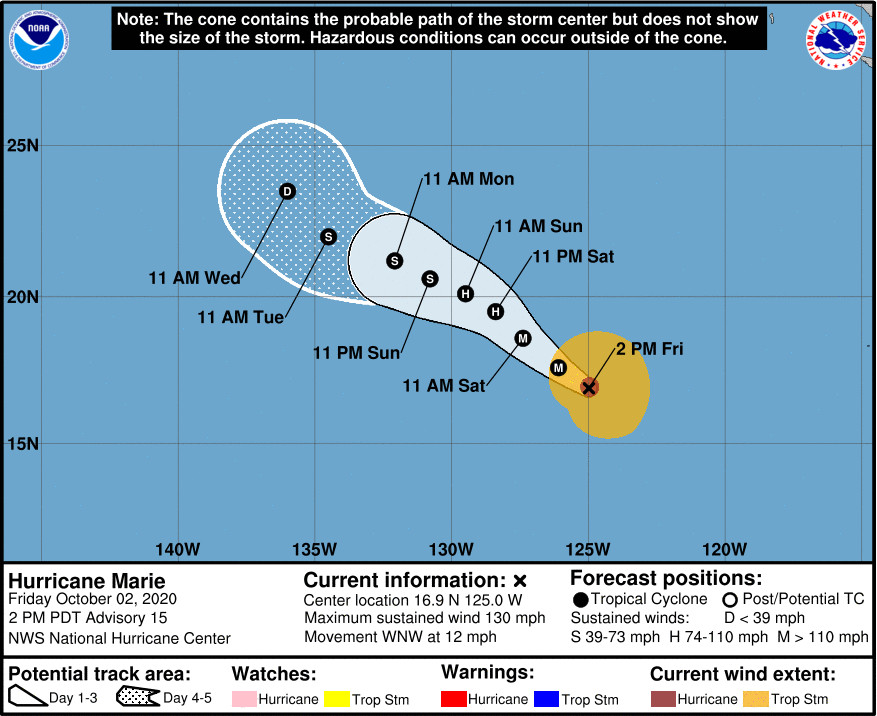 The forecast track shows Hurricane Marie weakening into a tropical depression and veering off to the northeast well before it makes an approach to Hawaiʻi.
From the National Hurricane Center discussion posted on Friday:
Marie remains a powerful hurricane this afternoon. A 1530 UTC SSMIS 91 GHz microwave image showed a well-defined, closed eyewall with a 20 nm eye, which is still evident in recent GOES-17 visible and infrared satellite imagery. The initial intensity is held at 115 kt based on T6.0 Dvorak classifications from TAFB and SAB, which are consistent with recent ADT and earlier SATCON estimates. The 34-kt radii are expanded slightly with this package based on recent ASCAT data.

Marie is moving west-northwestward (295 degrees) at 10 kt, around the southwestern periphery of a mid-level ridge centered over the southwestern United States. A break in the ridge should allow Marie to turn northwestward within the next 24 hours and maintain that motion over the next several days. By day 5, an approaching upper-level trough moving across the eastern Pacific Ocean should turn Marie more toward the north-northwest. There is still more noticeable spread in the guidance at days 4 and 5, likely related to differences in the amplitude of the upper-level trough. It is worth noting that the GFS depicts a deeper upper trough, and thus a more drastic northerly turn, than the rest of the global models. Overall, the NHC forecast was again slowed down a bit and shifted slightly to the right to align better with the latest TVCE multi-model consensus and HCCA aids.

Marie is expected to remain in a low-shear environment with sea surface temperatures of 26 degrees Celsius for the next 18-24 hours. Although slight additional strengthening cannot be ruled out, the storm is running out of time before environmental conditions become more hostile. After 24 hours, increasing deep-layer southwesterly shear and cooler waters should support a steady weakening trend through the rest of the forecast period. Marie is expected to fall below hurricane strength by 60 hours and become a tropical depression by day 5. The latest NHC intensity forecast shows a slightly faster weakening trend and remains very close to the IVCN consensus and the HCCA aid.

FORECAST POSITIONS AND MAX WINDS

INIT 02/2100Z 16.9N 125.0W 115 KT 130 MPH
12H 03/0600Z 17.6N 126.1W 115 KT 130 MPH
24H 03/1800Z 18.6N 127.4W 105 KT 120 MPH
36H 04/0600Z 19.5N 128.4W 90 KT 105 MPH
48H 04/1800Z 20.1N 129.5W 70 KT 80 MPH
60H 05/0600Z 20.6N 130.8W 60 KT 70 MPH
72H 05/1800Z 21.2N 132.1W 55 KT 65 MPH
96H 06/1800Z 22.0N 134.5W 35 KT 40 MPH
120H 07/1800Z 23.5N 136.0W 30 KT 35 MPH