(BIVN) – Felicia is still a Category Four hurricane, less than 1,795 miles east southeast of Hilo as of 5 a.m. HST on Sunday.
Felicia is a very small tropical cyclone, forecasters note. Maximum sustained winds have decreased to near 130 mph with higher gusts. The National Hurricane Center reported that some additional weakening is forecast today as the storm moves toward the west-northwest near 12 mph, and there should be faster weakening through midweek. The forecast track has Felicia becoming a post-tropical remnant low as it passes Hawaiʻi far to the south.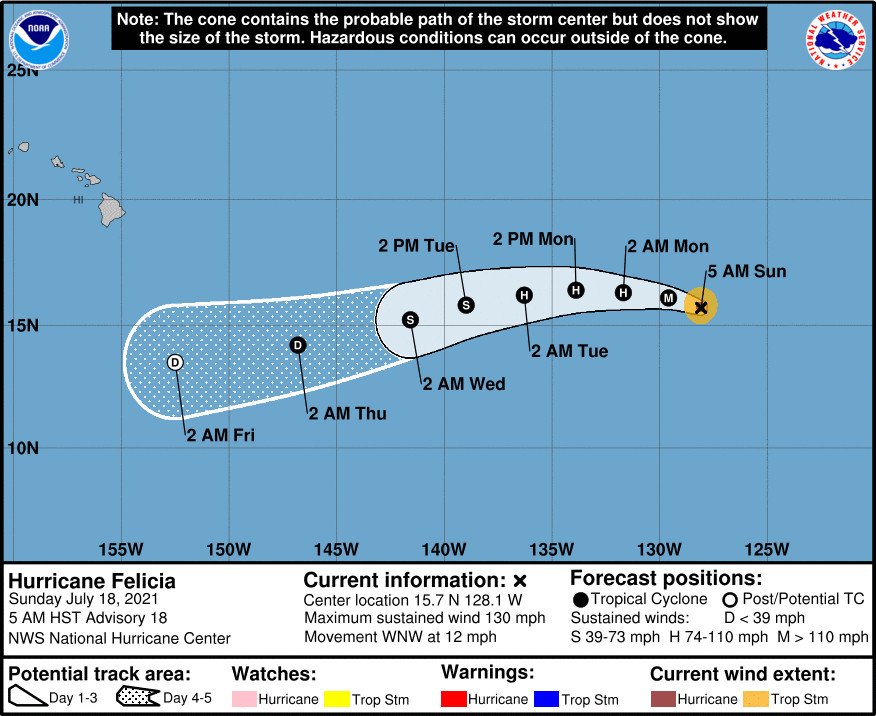 Behind Hurricane Felicia, Tropical Storm Guillermo is also moving toward the west-northwest near 12 mph. Guillermo is 385 miles south southwest of the southern tip of Baja California, with some strengthening possible today and early tomorrow.
"For the extended, it remains too early to determine whether or not any remnant moisture from the tropical systems currently (Felicia/Guillermo) in the eastern Pacific will move into the area later this week into next weekend," the National Weather Service in Honolulu wrote this morning.
The National Hurricane Center provided this information on Felicia in its 5 a.m. HST discussion:
Some changes have been seen with Felicia during the past several hours. The eye is not quite as warm in satellite pictures, and there are banding features present in the eastern semicircle of the hurricane. Overall, Felicia's previously very symmetric appearance has become a little distorted to the northeast. Both SAB and TAFB give an initial wind estimate of 115 kt, and that value is used for this advisory.

The big question is when will Felicia begin to weaken more significantly. Any environmental changes are fairly subtle during the next couple of days, with somewhat cooler waters and a slight increase in upper-level shear likely. While annular structure tends to be more stable, Felicia is a very small tropical cyclone, and those petite systems usually weaken quickly in marginal environments. Additionally, the latest microwave data has some suggestion of the early stages of an eyewall cycle (although it showed the same thing yesterday without much impact). All of these complex factors lead to this being a low confidence forecast during the next day or two. The new intensity forecast is a bit lower than the previous one, owing to the recent degradation in structure, but is still above the guidance mean. In about 3 days, much stronger shear should impact Felicia, leading to a quick death near or just after day 4.

Felicia is moving west-northwestward at about 10 kt. The cyclone is expected to turn westward by Monday, then move west-southwestward through midweek as Felicia becomes steered by a large ridge across the central Pacific. There is a little more spread in the guidance this morning, partially related to exactly how quickly Felicia weakens. The ECMWF, for instance, shows a faster decrease in wind speed, and is more to the southwest of the other guidance, consistent with the low-level steering flow. The GFS has the system moving slower and a little more poleward due to its stronger depiction of Felicia. The new forecast is slightly weighted toward the GFS solution, near the TCVN consensus, resulting in a small northward adjustment.

FORECAST POSITIONS AND MAX WINDS

INIT 18/1500Z 15.7N 128.1W 115 KT 130 MPH
12H 19/0000Z 16.1N 129.6W 105 KT 120 MPH
24H 19/1200Z 16.3N 131.7W 95 KT 110 MPH
36H 20/0000Z 16.4N 133.9W 85 KT 100 MPH
48H 20/1200Z 16.2N 136.3W 75 KT 85 MPH
60H 21/0000Z 15.8N 139.0W 60 KT 70 MPH
72H 21/1200Z 15.2N 141.6W 45 KT 50 MPH
96H 22/1200Z 14.2N 146.8W 30 KT 35 MPH
120H 23/1200Z 13.5N 152.5W 25 KT 30 MPH… POST-TROP/REMNT LOW