University of Hawaii can now begin setting up administrative rules for the mountain
March 26, 2010 – Hilo, Hawaii
Videos by David Corrigan
After hours of testimony for and against the four subplans that complete the greater Mauna Kea Comprehensive Management Plan, the Hawaii Board of Land and Natural Resources voted unanimously to approve the documents.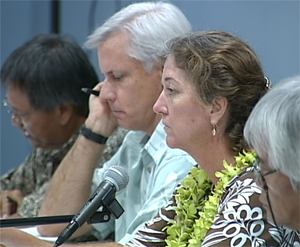 Now, the University of Hawaii can begin steps towards implementation of the plan, which is intended to govern the way the sacred mountain's resources are managed and preserved. The plan will also dictate the way access is granted to the visitors to the summit, and will manage, to a degree, the astronomy industry that makes the mountain its home.
The members of the public who testified at the hearing held at the Imiloa Astronomy Center followed the same patterns as the prior discussions on the matter. Astronomers and business organizations were in support of moving the plan along, while certain environmental groups like Sierra Club and KAHEA, testified against, and vowed continued litigation. Native Hawaiian practitioners were divided on the subject.
In April 2009, the BLNR voted to approve the Mauna Kea CMP, on the condition that the university also developed four subplans governing public access, observatory decommissioning, and the preservation of the mountain's cultural and natural resources.