November 1, 2010 – Hilo, Hawaii
Video by Daryl Lee | Voice of Stephanie Salazar
Black smoke and clanging alarms signaled a fire in downtown Hilo on Sunday afternoon. The blaze apparently started in a wood working shop behind Cronies Restaurant.
Damage by the fire was estimated at a quarter of a million dollars, gutting the back of the Moses building at Waianuenue and Kamehameha Avenues.
The fire started at the rear of the building, at the furniture shop behind Cronie's restaurant. One man was in the shop at the time and suffered burns to his back and was taken to the Hilo Medical Center. When fire fighters arrived just before 1pm, they found the rear of second and third story of the three story bulding fully involved. The fire was contained to the rear of building with no extension to adjoining structures or the front of the building.
Video of the fire was recorded by local martial arts master Tom Callos and first posted to the popular BJPenn.com website. A bystander who said he witnessed the start of the fire was interviewed by Callos and said it appeared to be have been started by transformer blowout.
Friends say the fire was a shop known for beautifully crafted fine furnitue and cabinet work run by Jerry Moulton. He is the man who made the koa staircase and cabinets in the Wainaku Buidness center, the former C.Brewer offices.
David Stevenson, who operates the adjacent Bayfront Coffee, Kava and Tea shop, witnessed the fire, and told news videographer Daryl Lee that the Moses building is the same structure that was home to the THC-Ministry, and was set to become the new home of Kapoho Kine Adventures, a local tourism company.
Gary Marrow with Kapoho Kine confirmed that the fire was a setback to their planned grand opening today.
Witnesses say it appeared the fire fighters had a hard time getting a water source, using a hydrant on Kamehameha and Kalakaua street. Fire fighters extinguished the wood shop fire and used another hydrant at Waianuenue and Kamehameha Ave at the front of the building to work on the fire in the third floor and attic space.
Traffic was a mess downtown, with police at most intersections directing traffic as they closed Kamehameha avenue between Haili and Wanauenune. Cars were re-routed up Haili from Kamehameha Avneue into the afternoon.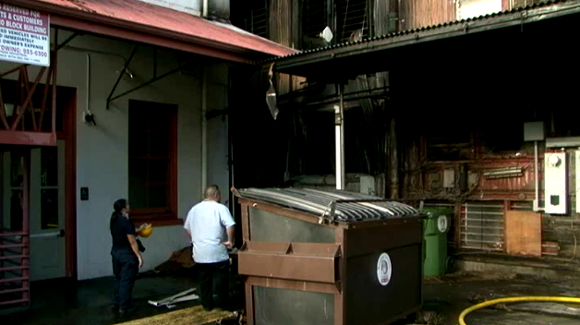 The back of the landmark Moses building along the Hilo Bayfront is left in shambles.
New Patient Safeguards for Online Drugstore Prescriptions. Part 2