Stand up paddle board championship has begun at Honolii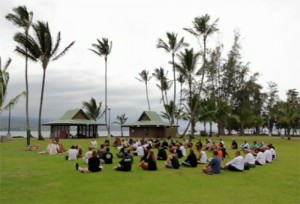 December 13, 2010 – HILO, Hawaii
Video courtesy Hawaii County Office of the Mayor | Voice of Stephanie Salazar
The Stand up World Tour is on Hawaii Island for the final event of the year, starting with an international parade around Liliuokalani Park, and a sacred Hawaiian awa ceremony on Moku Ola (aka Coconut Island), followed by surfing at Honolii Beack park. The event ends on Sunday with stand up paddle board race at the Hilo Bayfront.
The form of surfing is done on a paddleboard, rather than a surfboard. In the contest portion, surfers use a 28-inch wide paddle board, which is half a foot wider than a traditional surfboard. The trials will cut the field of 48 down to the top paddle board surfers.
The Stand Up World Tour was established in 2009 to address the exponential growth in the sport of stand up paddling. A quick look out onto the waters of Hilo Bay are testament to the surging popularity of the activity in Hawaii these days.
This year's tour began on Oahu's North Shore, and then subsequent contests were held in France, Tahiti and Brazil. Organizers plan to hold the finals at Honolii for the next few years
You can learn more at the Hilo Bayfront on Saturday and Sunday with demonstrations, music and a stand up paddleboard race within Hilo bay.
For more information, visit standupworldtour.com.