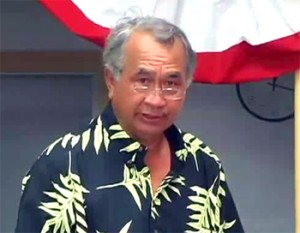 By Stephanie Salazar
And the new State Senator is… Gilbert Kahele.
The Governor made his decision on Tuesday evening, appointing Kahele to fill the position left vacant by Department of Agriculture Interim Director Russell Kokubun.
"Gil is a respected community leader who understands the issues facing Hawaii Island and our state," stated Governor Abercrombie. "He has served the Democratic Party at a number of levels and has the ability to bring people together to address our common challenges."
The State Senate District 2 includes Waiakea Uka, Puna, Volcano, and Ka'u on Hawaii Island.
The 68 year old Kahele ran Abercrombie's east hawaii campaign for governor. He was chosen by the governor from a field of three choices, who were narrowed down from an original 8 names by the regional Democratic Party. Kahele was chosen over Russel Rudderman and Anthony Marzi.
Kahele served in the United States Marine Corps from 1960 – 1964. He retired from the Department of Defense in 2000 after 37 years of service. He worked for the Department of Defense in the Public Works Division at the Naval Communication Station in Wahiawa on Oahu, and also and at the Pohakuloa Training Area on Hawaii Island.
Kahele is also a former chairman of the Hawaii County Police Commission. He resides in Hilo where he is an active volunteer.
Mahalo to Layne Luna for sharing this video of Gilbert Kahele, filmed during an Abercrombie for Governor Campaign stop in Hilo.