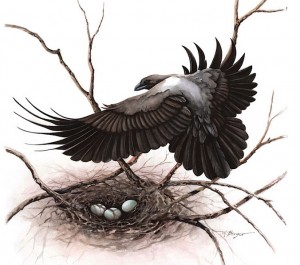 By Tim Bryan (artwork by Marian Berger)
A special art exhibit showcasing Hawaii's native birds, and the work of a Volcano artist, is on display this month.
The Complete Collection by Marian Berger will be shown in two separate installments at the Volcano Art Center Gallery in Hawaii Volcanoes National Park. The exhibit is free to the public.
The original watercolor paintings depict 37 species of birds found only in Hawaii, many of which are endangered. Each watercolor has been painted after John James Audubon's work on the Birds of North America, with all individual birds painted life-size.
Marian Berger, born in Limerick, Ireland, moved to the Big Island of Hawaii in 1976, where she has received many awards and commissions for her art, particularly her paintings of Hawaii's native birds.
The anonymous patron who underwrote the project has agreed to donate the proceeds of the $200,000 original collection to support Hawaii's endemic birds. Funds will go to support the Hawaii Endangered Bird Conservation Program, an effort of the San Diego Zoo Global. The program has two captive breeding facilities, one of which is located at Keauhou Ranch in Volcano.
The collection is so large that it will be split, the first half exhibited from January 8 – February 4, and the second half from February 5 – March 6.