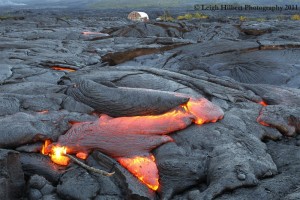 Video and report courtesy Leigh Hilbert
We have an update from on the ground in Kalapana, where a slow moving lava breakout is once again threatening the homes built in the area.
The advancing lava lobe was within a few hundred feet of the nearest residence as of Tuesday morning.
Big Island Video News interview the owner of the structure in July, and reported on it Tuesday.
 According to Wednesday morning's Kilauea volcano activity update issued by the USGS Hawaiian Volcano Observatory, "The November 29 flow (1,200 ft elevation tube breach) was still active in two main branches, each branch continued to host scattered breakouts. The western branch, which also split, continued to feed a minor ocean entry about 2 km (1.3 mi) southwest of the end of highway 130. In Kalapana, the lowest active lobes of the eastern branch continued minor expansion to the north and east."
The USGS reminds the public that Kalapana Gardens is a private subdivision and access will only be granted to subdivision residents. Private property borders highway 130 through Kalapana, and visitors to the Hawaii County Lava Viewing Area are not allowed access off the highway easement. Hawaii County Police will be monitoring the area. Hawai`i County Lava Viewing Area status can be found by calling 961-8093.
Lava photographer Leigh Hilbert, operator of the Hawaiian Lava Daily blog, filed this report.