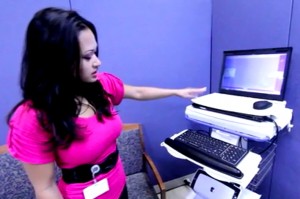 Video by David Corrigan, Baron Sekiya | Voice of Stephanie Salazar
The East Hawaii Region of Hawaii Health Systems Corporation held a press conference at the Hilo Medical Center on Thursday, to announce they are in the hunt for upwards of $7 million in federal stimulus funds, thanks to the recent implementation of its Electronic Medical Record system.
Its a historic first in the united States. Over 100 other hospitals from across the country are eligible to begin the process of achieving "meaningful use" with their electronic medical records system. HHSC joins those hospitals in trying to qualify for the massive incentive payments intended to reward the upgrades.
Officials say this program is accelerating the transformation of healthcare by moving the country closer to nationwide interoperable electronic patient records. Hospitals that fail to effectively implement an EMR will face decreased payments for patients covered by government-insurance programs such as Medicare, beginning in 2013.
Hospital officials were thrilled with the opportunity.
"The Regional Board is most appreciative of the Health Connect team and realizes this has been an extra burden for everyone," said Dr. Robert Irvine, Chair of East Hawaii Regional Board for HHSC, in a media release. "We applaud the Health Connect Team for their hard work and success. We anticipate improvement of care for all of our patients as a result of this."
"The fact that we stand to receive approximately $7 million in stimulus funds is exceptional news for the people of Hawaii County," said Howard N. Ainsley, East Hawaii Region CEO of East Hawaii Region of HHSC. "This EMR will provide safer care and it is in the best interest of our patients. I would like to commend our dedicated employees and physicians for their hard work and commitment to get this done."
"I can assure you that our journey will not end here with Meaningful Use," said Money Atwal, East Hawaii Regional CIO and CFO of East Hawaii Region of HHSC. "HMC will continue to invest in new technology that will improve clinical outcomes, promote physician alignment, enhance patient and employee satisfaction, and assist in strengthening the financial sustainability of the hospital."
Atwal added: "Our project team continues to work with our physicians and clinicians to optimize the workflows to support the new technology. A tremendous amount of work and energy is being put forth by our employees to improve the patient experience through new technology and training."
In 2009, the hospital began to organize funds, staff and resources to transition to the Electronic Medical Record system.
On May 1, 2010, Hilo Medical Center was the first State hospital to launch the system, named "Health Connect" by employees. It is projected to cost $5 million over 3 years.
In preparation for HMC's transition, over 800 employees and 200 active staff physicians completed Health Connect training classes. In December 2010, East Hawaii Region sister hospital, Ka'u Hospital, and HMC's outpatient clinics (including the residency program's clinic) initiated their EMR transition. Hale Ho'ola Hamakua is scheduled to be brought onto the system in late 2011 with community physician offices to follow.
Even aside from the chance to earn millions in stimulus incentives, Atwal says the Health Connect system has been a success.
Hawaii247.com contributed video to this report.