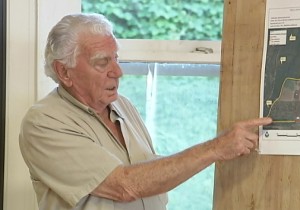 By Stephanie Salazar

907 acres at Honuapo will be set aside for agricultural preservation, in the first deal by the newly formed Hawaiian Islands Land Trust.
On Friday, it was announced that Edmund Olson, a major landowner in the Ka'u area, has reached an agreement with the statewide land trust that protects the land in perpetuity.
The agricultural areas – currently used for cattle grazing – are located above the cane haul road between Pahala and Naalehu.  The terms of the land agreement protect significant wildlife areas and cultural sites within the property. The agricultural areas are currently leased to Aina Koa Pono, an alternative energy company that is exploring biofuel-based production in the Ka'u area.
The agreement also includes the preservation of 1,276 acres of Olson land at Honouliuli on O'ahu.
This agreement is the first completed by the newly formed Hawaiian Islands Land Trust, through the merger of land trusts on Maui, Kauai, Oahu and the Big Island. With this 2,183-acre addition, the trust now oversees stewardship and protection of more than 17,400 acres across the state.
The Ka'u Calendar reports that Olson – who is a major holder of former C. Brewer and Campbell Estate lands throughout Hawaii – is on the verge of another agreement with the land trust that would preserve a total of 8,000 acres, with the help of the Nature Conservancy.