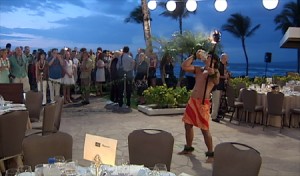 Video by David Corrigan | Voice of Stephanie Salazar
Superstar celebrity chefs Michael Symon and Jonathan Waxman had things cooking on the Kona side of Hawaii Island this weekend.
The Mauna Lani Bay Hotel & Bungalows was host to the first ever James Beard Foundation Celebrity Chef Tour event to be held in the Hawaiian Islands. 
On Saturday evening, foodies paid up to $250 per person for an all inclusive for chef dinner at the Mauna Lani's Canoe House restaurant.
Michael Symon, star of Iron Chef America and other Food Network shows, and Jonathan Waxman, best-selling author and star of Top Chef Masters on Bravo, collaborated with the Mauna Lani's Executive Chef, Sandy Tuason, to create a "rustic" feast using best locally grown, seasonal ingredients on the island.
National award-winning cocktail mixologist, Manny Hinojosa, also created some signature cocktails to complement the cuisine.
The Celebrity Chef Tour is a nationwide series helping to raise money for the James Beard Foundation, which celebrates and preserves America's culinary heritage and diversity through scholarships, publications, food and beverage industry awards. It is also responsible for the maintenance of the historic James Beard House in New York City as a venue for special culinary events.