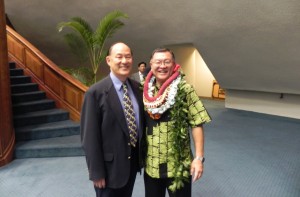 Media release | Hawaii Senate Majority Caucus
HONOLULU – The Senate unanimously confirmed Dwight Takamine as Director of the Department of Labor and Industrial Relations, on February 10, 2011.
Dwight Takamine brings extensive legislative experience, having served as an elected official for both the State House of Representatives and the Senate. Takamine also maintains considerable experience in the private practice of law. Obtaining a Juris Doctor Degree from the Williams S. Richardson School of Law, Takamine holds thirty years as a practicing attorney, with a primary focus on labor law.
Congratulations to the newly confirmed Director of Labor and Industrial Relations, Dwight Takamine.