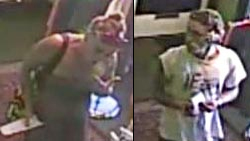 Media release | Hawaii County Police Department
Big Island police are requesting the public's help in identifying two suspects in a theft investigation.
On November 3, an unidentified man and woman entered the Irie Hawaii Smoke Shop at 140 Kino'ole Street in Hilo between 11:40 a.m. and 12 p.m. They allegedly removed several items valued at more than $300. They were last seen leaving the store on foot.
The man is described as in his 20s with a medium build, approximately 5-foot-8 to 5-foot-10 with a fair complexion and bleached or dyed blond hair. He was last seen wearing sunglasses, blue baggy denim jeans and a white T-shirt with cut-off sleeves revealing tattoos down his right arm. He also may have missing front teeth.
The woman was described as in her 40s, Caucasian, with a few tattoos. She was last seen wearing a tan dress and also was missing several front teeth.
Police ask that anyone who may know the identities of the persons in the surveillance photo call Officer Matthew Lewis at the Police Department's non-emergency line at 935-3311.
Tipsters who prefer to remain anonymous may call Crime Stoppers at 961-8300 in Hilo or 329-8181 in Kona and may be eligible for a reward of up to $1,000. Crime Stoppers is a volunteer program run by ordinary citizens who want to keep their community safe. Crime Stoppers doesn't record calls or subscribe to caller ID. All Crime Stoppers information is kept confidential.