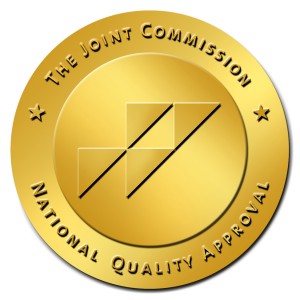 Media release | Hilo Medical Center
HILO MEDICAL CENTER AWARDED GOLD SEAL OF APPROVAL FOR NATIONAL ACCREDITATION FROM THE JOINT COMMISSION
Hilo, February 22, 2011 – Hilo Medical Center, its Home Care Program and eight Outpatient Clinics have earned The Joint Commission's Gold Seal of Approval™ for accreditation. The accreditation award recognizes Hilo Medical Center's dedication to continuous compliance with national standards. The medical facility and its staff underwent a rigorous unannounced on-site survey from January 31 through February 4, covering 400 standards on quality and safety.
A team of Joint Commission expert surveyors evaluated Hilo Medical Center for compliance with standards of care specific to the needs of patients, including infection prevention and control, facility safety, leadership and medication management. The survey team found 2 Direct Impact Findings and 12 Indirect Impact Findings. Two weeks after the survey, most findings have already been corrected with the remaining corrections scheduled to be achieved by April.
"Hilo Medical Center had an exceptional survey in comparison to the national average of 5 Direct Findings and 14 Indirect Findings," said Gail Rhoades, Quality Manager at Hilo Medical Center. "Hilo Medical Center dramatically improved from the last survey of three years ago when we received 9 Direct Findings and, for a time, was only 'conditionally accredited' with the Joint Commission."
The Home Care Department, surveyed separately, received no findings and achieved an extremely rare perfect survey. Under the hospital survey, the Emergency Department, Operating Room, Medical Unit, Laulima Unit, Overflow Unit, Intensive Care Unit and Environment of Care/Facilities Group also had no Direct findings in their areas. During the exit report, surveyors provided extraordinary commendations for the hospital's models of excellence in its Trauma Program, Behavior Health Unit, Oncology Clinic (Hawaii Pacific Oncology Center), and Home Health Department.
"In achieving Joint Commission accreditation, Hilo Medical Center, Home Care and Outpatient Clinics have demonstrated their commitment to the highest level of care for its patients," said Mark Pelletier, R.N., M.S., Executive Director of Hospital Programs, Accreditation and Certification Services for The Joint Commission. "Accreditation is a voluntary process and I commend Hilo Medical Center for successfully undertaking this challenge to elevate its standard of care and instill confidence in the community it serves."
"This year's Joint Commission survey results illustrate our employees and physicians' commitment to being in a constant state of preparedness," said Howard N. Ainsley, East Hawaii Regional CEO of Hawaii Health Systems Corporation. "Achieving Joint Commission accreditation represents a major feat in our ability to maintain excellence and continuously improve the care we provide. I thank everyone for their dedication to their hospital."
The Joint Commission's hospital standards address important functions relating to the care of patients and the management of hospitals. The standards are developed in consultation with health care experts, providers, measurement experts and patients. Founded in 1951, The Joint Commission seeks to continuously improve health care for the public, in collaboration with other stakeholders, by evaluating health care organizations and inspiring them to excel in providing safe and effective care of the highest quality and value. The organization evaluates and accredits more than 18,000 health care organizations and programs in the United States. It also provides certification of more than 1,700 disease-specific care programs, primary stroke centers, and health care staffing services.
The Joint Commission's Home Care Accreditation Program, established in 1988, accredits more than 5,600 organizations. An independent, not-for-profit organization, The Joint Commission is the nation's oldest and largest standards-setting and accrediting body in health care. Learn more about The Joint Commission at www.jointcommission.org.