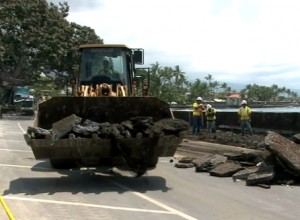 Video interview courtesy Hawaii County Office of the Mayor | Voice of Stephanie Salazar
Hawaii County has released a video showing an interview with Civil Defense Administrator Quince Mento describing the latest tsunami damage estimates in Kona. The county has forwarded the estimates to State Civil Defense.
Mento tallies $11.1 million in damages to businesses including the Kona Inn, King Kamehameha's Kona Beach Hotel and others; $2.52 million in damage to homes; and about $562,000 in damages to county facilities including Alii Drive in Kona. This does not include the loss to contents of businesses or homes.
State Civil Defense will use this data to seek federal assistance, although Mento said he was not sure what results the effort would yield.