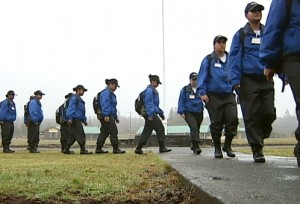 Video by David Corrigan | Voice of Tim Bryan
Yesterday we showed you some scenes of cadet life– early in the morning – here at Kulani.
These grounds are now home to the Hawaii National Guard Youth Challenge Academy, helping ask risk teens to meet the challenge of academics, in this remote, militant learning ground on the slopes of mauna Loa.
The location was once a prison, home to the Kulani Correctional Facility that was closed abruptly by the outgoing Linda Lingle administration in order to save money.
But now lawmakers, like District 2 State Senator Gil Kahele, are looking into reinstating the prison at this location.
The senator has the support of Governor Neil Abercrombie, who wants to bring Hawaii inmates home from mainland facilities.
So what is to become of the Youth ChalleNGe Academy? Sources say there is an opportunity for the program to relocate, to the warmer, seaside climate by Keaukaha. There may be vacancies at the old National Guard location when the new Keaukaha Military Reservation, Joint Military Center begins operation.