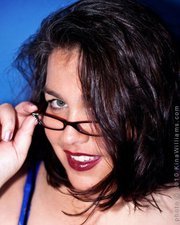 Media release | Volcano Art Center
Kimberly Dark returns to Volcano Art Center Poetry Slam to host and bring her incredible magic and talents to Volcano's Hale Ho'omana Performance Hall on Friday evening October 8th at 7:00 pm. After 8 weeks of intense teaching on the Mainland Kimberly returns to VAC to host her slam and bring her words to life and to inspire the poets of the Big Island. "We have been looking so forward to Kimberly's return as she is not only the founder of the VAC Poetry Slam but also one of the main reasons that Poetry and Theater are thriving so much on the Big Island. Her work inspires so many people on the Mainland and also her home Hawaii and if you want to see the incredible results of her work come to the Slam on April 8 at 7 pm as you will not only hear poetry but also feel poetry." said an excited VAC Performance Coordinator David Wallerstein.
The rules for participating poets are: (1) bring 2 poems of your own construction but remember that not everyone advances to the second round; (2) make sure that no poem is longer then three minutes performed and if it is longer please remember that points will be deducted from your score; (3) Poems can be memorized or read but remember that there are no props, costumes, or musical accompaniment. (4) Prizes will be awarded to the top 5 finishers of the evening, cash prizes for first and second, and an art gift from the Volcano Art Center for third, forth, and fifth place.
Valuing community over competition, VAC keeps the emphasis on the poets and their extraordinary talent even in the context of the slam, although a judge has been booed every now and then, but that is part of the fun. As the night progresses and individuals move closer to advancing to the second round, momentum and exhilaration bind the poets, their mentors, and audience members with the Volcano Art Center. First time and returning poets with new material are encouraged and we can not wait for you to use our stage to shine!
The VAC Poetry Slam also has food at intermission with snacks and drinks available throughout the evening So poets and audience members know that they can eat and enjoy a great meal and also see a fantastic performance if they have to work late or if other things come up before show time. We just want people to have the best experience at the Volcano Art Center and this was one of the things that people asked for, so we did it.
The "Return of the Dark" Poetry Slam" on April 8 will take place at Volcano Art Center's Niaulani Campus at Hale Ho'omana Performance Hall, located in Volcano Village on Old Volcano Road. Single ticket price for the event is $8.00 and you can purchase them at 967-8222 or visit website at www.volcanoartcenter.org. Tickets are also available 1 hour before the performance at the venue.