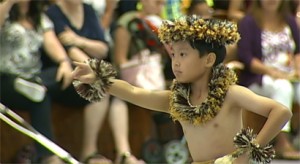 Video by David Corrigan | Voice of Stephanie Salazar
The traditional Ho'olaulea kicked off the 2011 Merrie Monarch festival at the Hilo Civic on Sunday.
Johnny Lum Ho's Halau Hula O Ka Ua Kani Lehua thrilled the large audience with a mid-day performance… just one of the many staged by different halau at the annual free exhibition.
The entire city of Hilo will be in the grips of hula fever over the next week, with afternoon hula performances all over town, art shows and craft fairs, and the big Merrie Monarch Ho'ike on Wednesday night.
Then on Thursday the competition begins, first with Miss Aloha Hula, followed by group Kahiko on Friday and group 'Auana on Saturday. The competition portion of the festival will be broadcast on the K-5 TV channel.