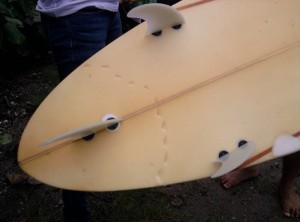 Video courtesy Lynn Beittel, Matt Binder of Visionary Video
Another day, another frightening shark encounter at a popular Kona beach on the Big Island of Hawaii.
Shark attacks are unusual here on Hawaii Island, but for the second time in three days, a surfer has run afoul of the jaws of a shark here at Holualoa Bay… also known as Lyman's surf spot.
On Wednesday, a shark left an impressive bite mark on the back end of the board of a surfer who was lucky to escape injury. Theresa Fernandez swam safely back to shore and notified the authorities.
Department of Land and Natural Resources officials re-posted shark warning signs, the same as they did on Sunday… when a grandmother and her 3-year-old grandson were knocked into the water after an estimated 16 foot tiger shark bit down on their paddleboard.
Thats when the grandmother – Alayna DeBina – kicked the shark and paddle in with her grandson, Moana.
No one has been injured in either of the attacks.
Holualoa Bay surrounds the Keakealaniwahine royal complex, and many believe it is where the legendary ruler Kamehameha I learned the sport of surfing in his youth. To this day the area is fiercely defended from development and cited as an historic location of high cultural and spiritual value.
This video shows images taken today at Holualoa Bay, after the shark attack, and features an interview with a local, off camera, who said that this is a touchy situation, because he doesn't want to see a bunch of people go out into the water looking to kill sharks. Sharks have a special cultural significance as 'Aumakua, or Hawaiian ancestral spirits.
The video also shows the unusual site of three sea turtles crowding the shore, seemingly avoiding the water. Do they know more than they let on?
The beaches remain open, while fire crews conduct helicopter flyovers in search of the shark – or sharks – responsible for the Lyman's assaults.