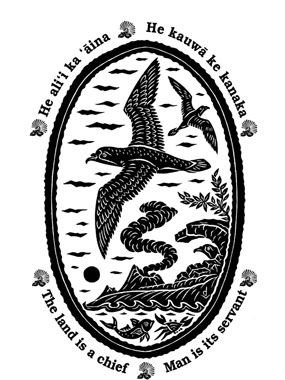 Video by David Corrigan | Voice of Stephanie Salazar
The 31st annual Cultural Festival hosted by Hawaii Volcanoes National Park was blessed by a light rain on Saturday, here at the park's scenic Kahuku Unit.
Attendees were able to celebrate Hawaiian culture with hands-on cultural demonstrations, local food, crafts … and some top notch Hawaiian music talent like Kenneth Makuakane and Aunty Diana Aki, here playing together before an appreciative crowd.
The theme of this year's event: "He ali`i ka aina. He kauwa ke kanaka" meaning "The land is the chief. Man is its servant"
According to the national park, the theme "is visualized in artist Dietrich Varez's rendering of the `ua`u, the endemic Hawaiian petrel. This endangered Hawaiian seabird nests in the subalpine region of Mauna Loa, where Park resource managers monitor their habitat in hopes of increasing the small population within Hawai'i Volcanoes National Park's Kahuku Unit. Varez's artwork on festival T-shirts this year depicts the `ua`u and its compelling lifecycle, including a lone chick in a pahoehoe pit nest awaiting its parents' arrival, a pair of soaring `ua`u, the marine life they feed upon, the pukiawe shrub (which grows in the area), and an active volcano. T-shirts will be available for sale at the festival."
The 116,000-acre Kahuku Ranch was purchased by Hawaii Volcanoes National Park – in cooperation with the Nature Conservancy – in July 2003 for $22 million. The acquisition more than doubled the size of the National Park.
The Kahuku unit section of the park is open to the public every weekend (Saturday and Sunday) from 9:00 a.m. to 3:00 p.m. The gate is locked at 3:00 p.m. Kahuku is closed on the 1st Saturday of each month.