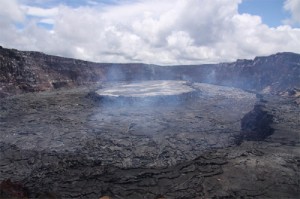 Video courtesy USGS Hawaiian Volcano Observatory | Voice of Stephanie Salazar
The dramatic uplift of the volcanic Pu'u O'o crater floor and perched lake may have stalled, says the USGS Hawaiian Volcano Observatory.
The recent expansion of the east rift zone crater looked like a baloon on the verge of popping… this thermal image video shows a looped timelapse video of the rising crater from July 9th to July 18th. The uplift was probably due to the shallow injection of magma beneath the crater floor, scientists say.
The southern floor and perched rim did not uplift noticeably on Sunday, while the northern lake rim appeared to have subsided slightly, a marked change from the rapid uplift of the last two weeks.
UPDATE: Just as this article was being published, the Hawaiian Volcano Observatory noted the crater was on the rise again.
According to the latest Kilauea Status Report (June 19th):
Slow uplift of the crater floor and perched lake resumed yesterday. A lava lake, fed continuously by a source beneath the northeast edge remained perched in the center of the doming crater floor; circulation was from northeast to southwest. The crater floor and formerly near-vertical perched lake rims now form a nearly-continuous ramp sloping away from the lake. The crater floor was about 19 m (62 ft) below the east rim of Pu`u `O`o Crater with the lava lake surface being about 6 m (20 ft) above the floor and the lake rims being up to a few meters (yards) higher than that when measured on July 16. From June 29 to July 16, the crater floor was uplifted about 1 m (yard) per day.

The GPS network around Pu`u `O`o recorded long-term extension since mid-April with more rapid extension across the crater since July 3 that may be slowing. The tiltmeter on the north flank of Pu`u `O`o Cone recorded slowing deflation. Seismic tremor levels were low. The most recent (preliminary) sulfur dioxide emission rate measurement was 700 tonnes/day on July 15, 2011, from all east rift zone sources.