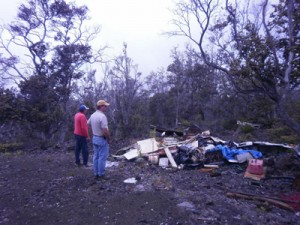 HAWAIIAN OCEAN VIEW ESTATES, Hawaii: "The Big Cleanup" is on its way to Ocean View in Ka'u, where the problem of illegal rubbish dumping is about to be adressed by the county and the local community.
This media release from the 501©3 non profit Keep Hawaii Beautiful was distributed via the Hawaii County mayor's office:
COMMUNITY ALLIANCE LAUNCHES MASSIVE OCEAN VIEW CLEANUP

An alliance of community volunteers and businesses led by Keep Hawai'i Beautiful Inc., The Church of Jesus Christ of Latter-Day Saints Ka'u Ward and Mike Dubois as coordinator for the Ka'u Prevent Illegal Dumping Task Force will launch the first of three days of cleanup of illegal dump sites in Hawaiian Ocean View Estates on Saturday, July 30, 2011.

The media is welcome, and lunch will be provided at 11:30 a.m.

Volunteers for "The Big Cleanup" will gather at the intersection of Seabreeze and Iwalani Street. Saturday for a safety briefing by representatives for the Hawai'i County Fire Department, and will be divided into work groups.

Sign in and briefing will begin at 7:00 a.m.

Heavy equipment and operators are being provided for the event by Arrow Hawaiian.

Atlas Recycling Center and Big Island Scrap Metal will provide roll-off containers to collect scrap metals and rubbish.

Pacific Waste Hauling and Superior Sanitation Waste Hauling will provide hauling to the Puuanahulu landfill. Other sponsors Ocean View Auto Parts & Precision Construction.

Additional work days are planned for August 4 and August 5 using heavy equipment and operators from Goodfellow Bros. Inc. Those events will use excavators and other equipment to clean dump sites in lava tubes and other areas that are not readily accessible from subdivision roadways.

"The Big Cleanup" is being funded by a grant from the Hawai'i County Office of the Prosecuting Attorney, Office of the Mayor, and Hawai'i County Police Department, which helped to form the Ka'u Prevent Illegal Dumping Task Force. Funding to cover the cost of tire disposal is being provided by the Office of the Mayor.