HILO, Hawaii: On Thursday, Hawaii County officials announced that Honolulu artist Blaise Domino had donated two historical map prints ,or giclee to the County of Hawaii.
Along with a media release, the county submitted this photo showing Mayor Billy Kenoi in a thankful pose with Domino, with Puna councilman Fred Blas on the left.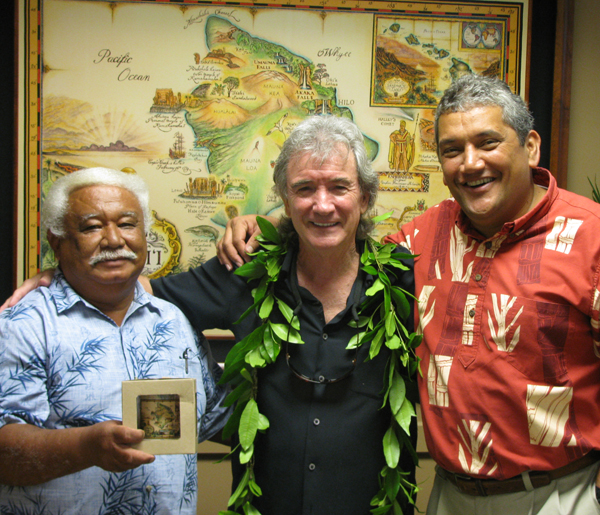 The county says:
Artist Blaise Domino utilizes the authority and grace of an old map as a canvas and utilizes his ability as an artist to cover it with beauty. The result brings history to life.

Through the use of visual vignettes depicting historical personalities, events and ecological and cultural conditions of the past, Domino's collectible prints turn the two-dimensional tool that is a map into a stimulating teaching instrument that is a work of art in itself.

Domino recently donated two of his framed "giclée" – a high quality print of an art work – to the County of Hawaii. The pieces, which depict the history of Hawaii Island, will be hung in the Mayor's Offices in Hilo and Kona.

"'Island of Hawaii' is my fifth in a series of my historical maps of Hawaii," said Domino, who publishes these maps through his Picture Map Company, located in Honolulu. "At first glance, it would appear to be quite busy with content, but unlike other art forms, maps are to be poured over and studied with relish."

On Thursday morning, Hawai'i County Mayor Billy Kenoi presented the artist with a certificate of appreciation at an unveiling ceremony in Hilo. "On behalf of the County of Hawai'i, it is an honor and a privilege to showcase this unique and beautifully detailed map of our Hawai'i Island, and we are grateful for Mr. Domino's very generous gift," Kenoi said.

Following the Hilo unveiling, Mr. Domino travelled to the West Hawai'i Civic Center for a reception that afternoon with the Kona staff of the Mayor's Office. Domino's giclée is the first work of art that visitors will encounter as they enter the mayor's offices in Hilo and Kona.

For more information on Mr. Domino's work, visit www.blaisedomino.com, or email him at blaise@blaisedomino.com, or call him at (808) 737-3777.