SCHEDULE
'Ike Hana No'eau Cultural Programs
Art of Kapa
Kilauea Visitor Center lanai
Wednesday, Sept. 14th – 10 am to noon
Fall Art Market
Volcano Art Center
Niaulani Campus, Volcano Village
Saturday, September 17 at 10:00am – Sunday,  September 18 at 3:00pm
MEDIA RELEASE: A weekend of exceptional fine arts created locally, featuring original works of photography, painting, jewelry, and sculpture available for sale directly from the artists. Food, free demonstrations and hands-on activities throughout the day for visitors and residents of all ages.

This event will be indoor/outdoor, rain or shine and takes place at Volcano Art Center's beautiful Niaulani Campus at 19-4074 Old Volcano Road. Click below to view the Event Regulations and Artist Application.

http://www.volcanoartcenter.org/component/content/article/80-artist-opportunities/482-artist-opportunity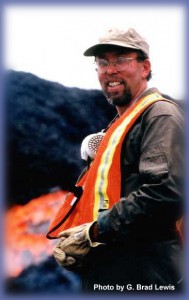 "On the Edge of Kilauea Caldera"
Hawai'i Volcanoes National Park
Saturday, Sept. 17th – 8:30 am to 2:30 pm
MEDIA RELEASE: On Saturday, September 17, the public is invited to join volcanologist Ken Hon for a trip around and into Kilauea Caldera.  "On the Edge of Kilauea Caldera" is a two-part program from 8:30 a.m. to 2:30 p.m. that begins with a three to four mile hike in Hawai'i Volcanoes National Park and ends with a gourmet lunch at the famed Kilauea Lodge in Volcano Village.

"Come find out how the current caldera formed and how it differs from the new vent that is currently active in Halema'uma'u Crater," states Dr. Hon.  "We'll start at the Kilauea Visitor Center for an orientation and then a brief walk to Sulphur Banks to see the outer ring fracture system of the caldera."

At Sulphur Banks, volcanic gases seep out of the ground and color the earth in various hues depending on chemical composition.  From there, participants hike through a faulted valley and across the road to Steam Vents and Steaming Bluffs to learn about their relationship to the caldera.  In this grassy meadow, ground water seeps down to the hot volcanic rocks and returns to the surface as steam.

Along the crater's edge, participant get a great view of Halema'uma'u and the current vent, which holds a deep lava lake and emits a plume of gas high into the sky.

The trip then makes a steep descent–along volcanic blocks that slumped into the caldera beneath Volcano House–before taking the group out onto the northern edge of Kilauea Caldera and climbing up the switchback trail to Byron Ledge.

"The last section of the trail takes us along the old Crater Rim Drive that partially fell into the caldera during the 1975 magnitude 7.2 earthquake.  The trip ends back at Kilauea Visitor Center, with our next stop lunch at the Kilauea Lodge and Restaurant," notes Dr. Hon. 

The Kilauea Lodge is well known for owner-chef Albert Jeyte's continental cuisine with a touch of local flavors.  Lunch includes soup, Big Island fresh catch, wine, coffee or tea, and dessert.  (Vegetarians can be accommodated with advance request.)  Wine will be provided compliments of the Volcano Winery.

Dr. Hon has been working on Hawaiian Volcanoes for over two decades.  He is a Professor of Geology and Chair of the Research Council at the University of Hawai'i at Hilo, where he has taught since 1997.  Dr. Hon earned both his B.A. and Ph.D. in Geology at the University of Colorado at Boulder, then served as the research volcanologist at the U.S. Geological Survey's Hawaiian Volcano Observatory from 1987 to 1990.  He currently studies emplacement of lava flows and the formation of lava tubes.  Dr. Hon is also interested in hydrothermal alteration of lava and the formation of calderas.  He has worked on older calderas in Colorado, Arizona, and Russia.

This event is presented by the Hawai'i Volcanoes Institute, a program of the Friends of Hawai'i Volcanoes National Park, a non-profit organization.  Program cost is $60 for Friends members and $85 for non-members.  Lunch is included in the tuition.  Students (K-12 and college with valid student ID) are half-price.  Non-members are welcome to join the Friends in order to get the member discount. 

To register, call 985-7373 or visit www.fhvnp.org.
Keauhou Bird Conservation Center and Kipuka Puaulu
with Jack Jeffrey
Saturday, September 17, 2011 9:00 a.m. – 5:00 p.m.
With Jack Jeffrey and KBCC Staff as your guides, see and learn about the native Hawaiian birds that the facility houses, including some of the last remaining 'alalā, or Hawaiian Crow, which is critically endangered and extinct in the wild; the Maui Parrotbill, an insectivorous Hawaiian honeycreeper; palila, a finch-billed honeycreeper only found on the slopes of Mauna Kea; nēnē or Hawaiian goose; and puaiohi or Small Kaua'i Thrush.

Learn more and reserve your place now!

These special events are designed for The Kohala Center's Circle of Friends, as a way to say "mahalo" and as a way to connect Friends with one another, with cultural, agricultural, and scientific experts, and with Hawai'i Island's natural, cultural, and spiritual landscapes. The cost for these learning events is $50 per excursion for current Friends.
2011 Na Mea Hawai`i Hula Kahiko
Halau Hula Kalehuaki`eki`eika`iu and kumu hula Ab Valencia
hula platform overlooking Kilauea Crater in Hawai`i Volcanoes National Park
Saturday, September 17, 2011 10:30AM – 11:30AM
AFTER DARK IN THE PARK
Natural History of Hawai'i's Native Bat: Ope'ape'a
Kilauea Visitor Center Auditorium
Tuesday, Sept. 20th – 7 pm
'Ike Hana No'eau Cultural Programs
The music of Kai Ho'opi'i
Kilauea Visitor Center Auditorium
Wednesday, Sept. 21st – 6:30 pm to 8 pm
Poetry Slam w/ Kimberly Dark
Volcano Art Center's
Niulani Campus
Friday, September 23 – doors open 6:30 pm
ART EXHIBIT: Embracing Ohi`a
Volcano Art Center Gallery – HVNP
Opening Reception on
Saturday, September 24 – 5:00 to 7:00pm
Embracing `Ohi`a, a group exhibit featuring artists Andrea Pro, Margaret Barnaby, Nora Yamanoha, Lisa Louise Adams, Kathy Molina and JOhn McCaskill, of the Pacific Island Printmakers. At Volcano Art Center Gallery in Hawai'i Volcanoes National Park. Opening Reception held on Saturday, September 24 from 5-7pm. Free (Park entrance fees apply).
VOLUNTEER FOREST RESTORATION
National Public Lands Day
Devastation Trail – HVNP
Saturday, Sept. 24th – 8:30 am to 1 pm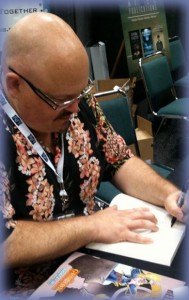 "Today's Way Go Get Your Book Published"
with author Stephen Prosapio
Volcano Art Center
September 24 and September 25 from 10 am – 4 pm
MEDIA RELEASE: Volcano Art Center will be bringing "Today's Way Go Get Your Book Published" workshop presented by published Science Fiction author Stephen Prosapio. The workshop will take place over 2 days on September 24 and September 25 from 10 am – 4 pm. The cost of the weekend workshop will be $75 for members of VAC and $80 for non-members.

This workshop includes all the ways in which you can gain visibility among publishers and readers. The class has sessions on how to develop your web presence, public speaking, book trailers, social media, media contacts, articles written for magazines, newspapers or websites as well as increasing self-networking skills. Your "platform" is the difference between a reader passing your book up or her giving it a chance by flipping the cover open to read the inside flap.

Stephen Prosapio received his Bachelors of Arts degree in Political Science from DePaul University in Chicago. After reporting for one of the nation's largest fantasy football websites, footballguys.com, Stephen wrote his first novel, Dream War. Competing against 2,676 other novels, it won a Top Five Finalist award in Gather.com's 2007 First Chapters contest. Dream War was released as an eBook in July of 2010.

Stephen's second novel is scheduled for publication February 2011. Ghosts of Rosewood Asylum: Forced to team with a rival TV ghost hunting show, a paranormal researcher—who is himself possessed—investigates a 19th century asylum and uncovers as many dangerous secrets as he does spirits. As of August 16, 2011 Stephen's books are both rated on Amazon Customer Rated favorites: Dream War is rated #70 under the Science Fiction Novels and Ghosts of Redwood Asylum is #24 in Science Fiction Novels and #18 in Horror.

In addition to writing fiction, Stephen is an accomplished corporate trainer and works as an executive recruiter. He resides in Oceanside, California. Articles about him have been featured in the San Diego Union Tribune, The North County Times, Today's Local News, San Diego Magazine and the DePaul University Alumni magazine. He is currently crafting a sequel to Ghosts of Rosewood Asylum that chronicles the ongoing adventures of Zach Kalusky and the Xavier Paranormal Investigators.

To reserve a spot for the workshop please call David Wallerstein at 808-967-8222 or visit www.volcanoartcenter.org.

AFTER DARK IN THE PARK
MANA I KA LEO: The Power of the Voice
Kilauea Visitor Center Auditorium
Tuesday, Sept. 27th – 7 pm
'Ike Hana No'eau Cultural Programs
Art of Kapa
Kilauea Visitor Center lanai
Wednesday, Sept. 28th – 10 am to noon