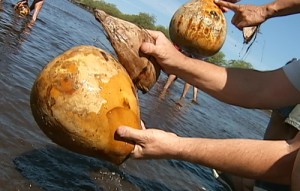 Video by David Corrigan | Voice of Stephanie Salazar
KOHALA COAST, Hawaii: A crowd gathered at the Pu'ukoholā Heiau National Historic Site to celebrate 39th anniversary with the annual Ho'oku'ikahi Establishment Day Hawaiian Cultural Festival.
Following the Ho`okupu ceremony held after sunrise, visitors and cultural practicioners amassed at Pelekane, along the beach below Pu'ukoholā Heiau.
There, 20 arts and craft workshops and demonstrations were set up for visitors to experience and learn hands-on, including lei making, canoe rides, lauhala weaving, and the always popluar ipu carving.
The festival is made possible through the cooperation of the Hawai'i Natural History Association, Na Aikane o Pu'ukoholā Heiau, Na Papa Kanaka o Pu'ukoholā Heiau, National Park Service, and many friends of the Park.