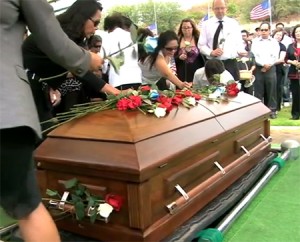 Kona video by Lynn Biettel, Visionary Video| Waimea video courtesy Baron Sekiya, Hawaii247.com | Voice of Stephanie Salazar
KAILUA-KONA, Hawaii: The memory of a Big Island marine killed in Afghanistan was honored on Thursday.
Residents from all over Hawaii Island gathered along roadways here in Kona, to salute Lance Corporal Christopher Camero, as his casket made its way from funeral services held at Annunciation Catholic Church in Waimea, to the West Hawaii Veterans Cemetery.
Lance Corporal Camero was 19 when he died after being injured during combat operations in Helmand province. He will be the first veteran killed-in-action to be interred at the Kona vet cemetery.
Camero was a 2010 graduate of Honokaa high school, and before that he attended Waimea Middle School.
On Thursday, Governor Neil Abercrombie ordered flags to fly half staff in honor of Camero. HELCO even orchestrated to have a huge flag flapping over the cemetery entrance as the cavalcade arrived.
A motorcycle escort heralded the arrival of Camero's flag draped casket.
Folks from all walks of life gathered along the road and by the grave, to show their aloha and to bid farewell to the young marine.
Organizers spared no expense in order to give Camero a hero's sendoff. Blue Hawaiian Helicopters even performed a flower drop during the ceremony.
And finally, after taps and gun salutes, Camero's surviving ohana received the folded flag, and held it tight as flowers were placed on the casket by friends and family.