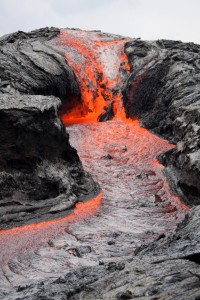 Video courtesy USGS Hawaiian Volcano Observatory
HAWAII VOLCANOES NATIONAL PARK, Hawaii: The brave scientists at the Hawaiian Volcano Observatory have shared another round of compelling volcano video.
The latest footage shows the most recent change to Kilauea's eruption. The Pu'u O'o vent on the east rift zone is gushing lava from a fissure on ts upper southeast flank.
To set the stage, we turn to the USGS daily volcano update:
The fissure breakout that started Wednesday morning continued this morning. As of yesterday afternoon's overflight, the `a`a flow had advanced another kilometer for a total advance of 3.7 km (2.3 mi) from Pu`u `O`o to the southeast within the Kahauale`a Natural Area Reserve. If the flows continue to advance, they will likely continue southeast, along the western edge of the Episode 58 (TEB) lava flow, toward Royal Gardens. In addition, a small pad of lava reactivated about 11:30 pm last night at the bottom of the drained eastern lava lake and small seeps were barely active at the west edge of Pu`u `O`o Crater.
This video is comprised of three parts. the first shows "the fast-moving upper section of the lava stream on the relatively steep eastern flank of Pu'u 'Ō'ō," HVO staff writes. "The video pans to the left to show the smaller lava stream eruption from the lower (eastern) end of the fissure."
The second part shows the main lava stream on the lower east flank. At 13 feet across and 7 feet deep, rushing down hill at a speed of 10 feet per second, this stream carries most of the lava.
The last part of the video shows a 20 foot high lava cascade near the eastern base of Pu'u O'o. According to HVO, This is the same lava stream shown in the previous two videos. The lava stream continues on several hundred more meters (yards) before transitioning into rubbly pāhoehoe and 'a'ā and stalling well short of yesterday's flow front, which is now inactive."
HVO staff say that all erupted lava is within Hawaii Volcanoes National Park or adjacent State land managed by the Department of Land and Natural Resources.
"If the eastern flows persist, they may pose a hazard to the abandoned Royal Gardens subdivision in the coming days," geologists say.