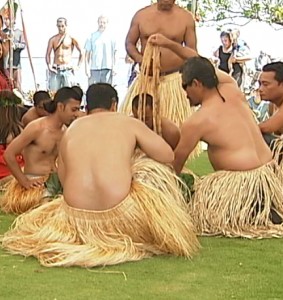 Video by David Corrigan and Hawaii County Office of the Mayor | Voice of Stephanie Salazar
HILO, Hawaii: On Saturday, the 2nd Annual World Peace Festival was held under sunny skies at Moku Ola – or Coconut Island.
The multicultural extravaganza was organized by County Public Information Specialist Desiree Moana Cruz.
The free family event featured a global line-up of Hawaii Island talent including Na Hoku Hanohano and Grammy Award winner Sonny Lim, Hui Okinawa's Kobudo Taiko Troupe, Kumu Hula Kimo Awai's Halau Hula Na Po`e Ao Hiwa, and Merahi o Tahiti.
Micronesians United-Big Island, comprised mostly of University of Hawaii at Hilo students, were also on hand. The group held a special sakau ceremony(known as kava or awa in Hawaii) at the foot of the festival stage. The group pounded and prepared the root for drinking by the top ranking chief… in this case Billy Kenoi. Then, the second drink goes to the second in rank – apparently councilman Fred Blas. The third drink goes to a woman: Desiree Moana Cruz did the honors.
Hawaii County presented the festival in partnership with the Hilo Downtown Improvement Association, and with support from the International Committee of Artists for Peace assisted by Soka Gakkai International.