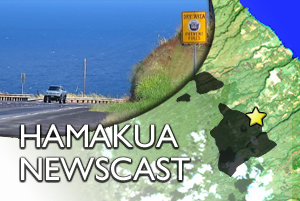 By David Corrigan and Stephanie Salazar
HAMAKUA COAST, Hawaii: Traffic on Highway 19 was halted at the 31 mile marker, just north of the third horseshoe in Ookala on Saturday morning.
County Fire and rescue crews responded to a 7 a.m. alarm for a crash between a car and van.
Firefighters found the van lying on its passenger side on the highway with the driver pinned in it. Five passengers were able to get out of the van.
The other car was crashed in a ditch with the driver pinned in the vehicle.
The roadway was closed in both directions as crews freed both drivers and the scene was cleared.
The highway was re-opened to traffic at about 10 a.m.
The condition of the drivers was not reported by fire dispatch.
Road work
In other Hamakua traffic news, the Department of Transportation is warning motorists about delays lasting all week at certain locations due to ongoing construction work.
At both the Laupahoehoe Gulch and the Maulua Gulch, there will be alternating single lane closures on Highway 19 – in both directions – from Monday, October 24, through Friday, October 28, from 8 a.m. to 3 p.m. daily, for slope stabilization work.
Big Island Video News covered what the state DOT is calling their "Emergency Earthquake Rockfall Repairs Project" in last week's newscast. The project draws from $12 million in Federal Aid to complete the effort. Workers will be cutting trees, clearing and grubbing, rock scaling, and anchoring and draping the wire mesh over the cleared slopes… all from these dizzying heights.
DOT officials say the completion date has been revised from January 2012 to March 2012.
Kaiwiki Boday identified
Also, last Friday, Hawaii County Police announced that an autopsy has confirmed the identity of a body discovered in a ravine on October 18th as 84-year-old Edward Van Kleeck of Hilo.
Police say the cause of death is still undetermined pending further tests but the medical examiner ruled out foul play and determined that Van Kleeck's injuries were consistent with a fall from a height.
On Tuesday, shortly after 4 p.m., South Hilo patrol officers responded to upper Kaiwiki Road area to investigate a report of an unattended vehicle. Upon arrival, police discovered that the registered owner of the Volkswagen convertible was Van Kleeck, who could not be accounted for.
Police found indications at the scene that Van Kleeck might be injured. Units from the Hawaiʻi Fire Department arrived to assist in the search of a nearby ravine and were aided by Chopper 1, the Fire Department's helicopter.
Hawaii247.com's Baron Sekiya shot this video at the sene.
At the bottom of the ravine, Fire department personnel located the body of an elderly Caucasian man with apparent injuries. He was taken to Hilo Medical Center, where he was officially pronounced dead.