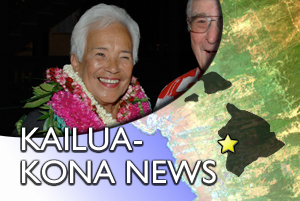 By David Corrigan and Stephanie Salazar
KAILUA-KONA, Hawaii: The longtime curator of the historic Hulihe'e Palace has retired, and passed the torch to a new administrator.
Big Island News Center's Sherry Bracken reports that Aunty Fanny Au Hoy has officially stepped down from the position she has held since 1988. Casey Ballao will take her place, the first man ever in the Daughters of Hawaii's history to take the helm at Hulihe'e Palace.
Bracken reports 225 invited guests gathered on the back lawn at Hulihe'e Palace to say aloha to Aunty Fanny and to her sister, Winona (Aunty Nona) Wong, who was also retiring from her position as a docent at the Palace. The evening was a combination tribute and roast to the two women.
Big Island Video News has had the pleasure of interviewing Aunty Fanny on a number of occasions. Here she is as the grand marshall of the 2008 Kona Christmas Parade. Later, in 2009, we interviewed her after the Hulihee Palace re-opened after its restoration, following the magnitude 6.7 Kiholo Earthquake in 2006.
The festivities on the day of the re-opening were nearly cancelled, after a powerful earthquake in Samoa put Hawaii on a temporary tsunami warning.
No, the tsunami wouldn't arrive that day… it would arrive two years later, after an earthquake in Japan sent the ocean surging into Kona. Again, Aunty Fanny had to pull the palace through another disaster.
The Palace is back up and running, and now under new era of leadership. Aloha to Aunty Fanny and her sister Aunty Nona for their dedication to Kona's treasured Hulihee Palace.
Special thanks to Fern Gavelek for supplying us with the photos from the night of the gathering.