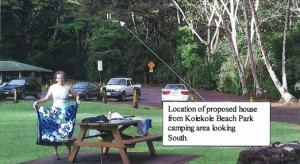 By David Corrigan and Stephanie Salazar
[File Video]
HAMAKUA COAST, Hawaii: In today's Hamakua news report, we have a few Board of Land and Natural Resources items of interest to the Hamakua region.
First, there are three names being nominated to serve as directors of the Hamakua Soil and Water Conservation District.
Business consultant Doug Connors is being recommend to fulfill the unexpired term of Michael Robinson.
Also, Lori Beach – a secretary at the Hamakua North Hilo Ag Co-op, and Gene Aguiar, a local cattleman, are being recommended for the seats.
There are five directors on the body, two of which are appointed and three of which are elected by land occupiers in the district.
Also on the agenda for the land board…
A Conservation District Use Application for a Single Family Residence in Kolekole Gulch, overlooking the popular beach park.
According to documents submitted for the boards review, the applicants – Douglas and Dawn Goehring – would like to construct a residence on his private land, which is in a Conservation District in Wailea.
The County of Hawaii has identified Kolekole gulch as a natural beauty site. The documents say the project has the potential to impact open space and some view plains, although the applicants believe the view of the home from the beach park will be obstructed by the dense foliage. The applicant is proposing to use a lava rock facade to blend with Kolekole Stream, the basalt cliff outcrops, and the Kolekole pebble beach.
Mitigation commitments contained in the CDUA and final Environmental Assessment are to be incorporated into the project during design and construction.
Department staff recommends that the BLNR approve the application.
The land board meets on Friday in Honolulu.