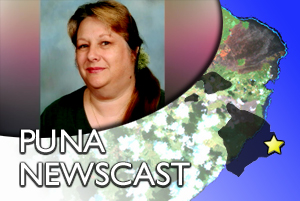 By David Corrigan and Stephanie Salazar
PAHOA, Hawaii: Nancy Iaukea, at teacher at Pahoa High and Intermediate, is among Hawaii's seven District Teachers of the Year.
According to a state media release, Iaukea is a former business owner and Marine Corps officer who found her calling in the classroom after serving as a substitute teacher.
She is now a highly-qualified science educator who holds a Masters Degree in Special Education.
The state says that for the past five years, Nancy's special education students have consistently won awards and honors at district and state science fairs.
Nancy focuses her teaching on real-world service learning projects such as recycling and composting to instill in students a sense of responsibility and ownership of the environment.
Iaukea was recently honored on Oahu by Governor Neil Abercrombie, Hawaii State Board of Education Chairman Don Horner, and Superintendent Kathryn Matayoshi, who made the announcement during a ceremony honoring the seven District Teachers of the Year at Washington Place.