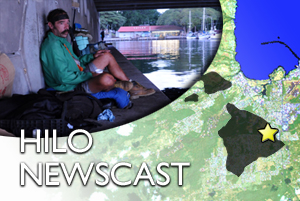 By David Corrigan, Tim Bryan and Stephanie Salazar
[Video by Tim Bryan]
HILO, Hawaii: HOPE Services Hawaii and other community partners gathered to discuss the launch of the Downtown Hilo Registry Week, and effort to survey and identify the most vulnerable homeless in the community.
During this press conference held on Friday at HOPE Services' Volunteer Headquarters, the results of data collected during three busy mornings of outreach in Downtown Hilo were unveiled.
After Day 3, a total of 130 homeless persons completed the surveys in the volunteers' group effort to assess the homeless' health and housing needs.
The by-name, photographic registry is part of the 100,000 Homes Campaign, a national effort to house 100,000 homeless by July 2013.
Organizers say the program has become a national model for reducing and/or eliminating homelessness.
One hundred cities across America have participated in this campaign in its inaugural year. Downtown Hilo is the first community to kick off this campaign in the State of Hawaii. The State's Interagency Council on Homelessness recently adopted this model.
We will have much more on this effort later on Big Island Video News.