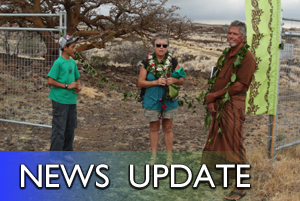 By David Corrigan and Stephanie Salazar
[Photos courtesy Mary-Kay Cochrane, File video by David Corrigan]
WAIKOLOA, Hawaii: the community celebrated the Waikoloa Dry Forest Initiative on Sunday.
Waikoloa Village Outdoor Circle recently completed the fence protecting 275 acres of remnant lowland dry forest just outside of the Village, which is seen here in the middle of the project.
The project site was blessed, and later, a wiliwili tree was planted at the Quarry Road junction, symbolizing our project and replacing a tree that recently died.
The 6 foot high game fence intends to keep goats and other hungry ungulates away from precious native plant species like wiliwili and uhiuhi within the area. This project protects 10 of the 13 uhiuhi trees that occur in the area and about 80 wiliwili trees.
There are also plans to complete a 100 foot wide fuel break around the project to reduce the threat of wildfire, and to provide educational and experiential opportunities within the forest.