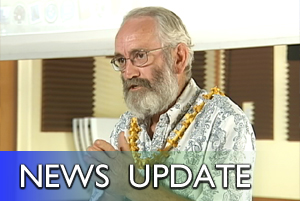 By David Corrigan and Stephanie Salazar
[File video by David Corrigan]
PAHOA, Hawaii: In political news out of Puna…
Dr. James Weatherford has tossed his hat into the race for the District 4 county council seat, to be decided by voters in 2012.
Weatherford ran for District 5 in the last election… which is basically the same location, however now that Puna has two districts, Weatherford will contend for the Puna makai seat occupied by councilman Fred Blas.
Weatherford wrote on various local websites and forums that his candidacy derives from his passion for and commitment to public service, and the desire to serve this community that has given him so much.
He has also vowed that his campaign will neither solicit nor accept any private campaign contributions and will be funded solely from the Hawaii Election Campaign Fund.