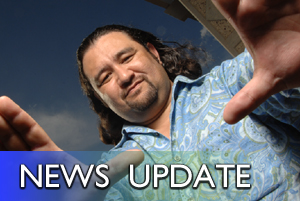 [File Video by David Corrigan and Stephanie Salazar, photos courtesy UH-Hilo]
Media release from University of Hawaii-Hilo:
HILO, Hawaii: Robert K. Iopa, the Big Island-born architect who designed the College of Hawaiian Language and Pharmacy Buildings at the University of Hawai`i at Hilo gives the keynote address at this year's fall commencement, scheduled for Saturday, December 17 at 9 a.m. in the UH Hilo New Gym.
A total of 300 students have petitioned for a variety of degrees and/or certificates. The undergraduates and their respective colleges include: College of Arts and Sciences (153), College of Agriculture, Forestry and Natural Resource Management (15), College of Business and Economics (36), Ka Haka `Ula O Ke`elikolani College of Hawaiian Language (7) and the College of Pharmacy (49). Another 40 students are candidates for various post-graduate degrees or other honors.
Iopa currently serves as president and principal of WCIT Architecture on O`ahu, a start-up group he founded in 2000. Specializing in planning, entitlements and design, Iopa maintains a lead role in all of the firm's projects and heads the design effort for over a dozen projects in Hawai`i. His design for the College of Pharmacy Building was recently featured in Honolulu Magazine, while his plans for the College of Hawaiian Language Building captured the "2010 American Institute of Architects (AIA) Honolulu Design Award" in the category of "Commissioned Work to be Built." Both projects reflect his philosophical approach, which strives to create unique, special places and environments rooted in the Hawaiian way of life and sustainability.
In addition to Hawai`i, Iopa has led and participated in the development of projects throughout Asia, South America and the South Pacific. His work has earned him numerous awards and recognition, including being named one of Hawai`i's brightest young leaders (40 under 40) by Pacific Business News, one of the State's most Influential Leaders for the Next Twenty-Five Years (25 for the next 25) by Hawai`i Business Magazine and the 2008 SBA Business Person of the Year for the City and County of Honolulu.
Clinton K.V. Tavai, affectionately known as "Kahōkū," represents the graduating class as student speaker. Tavai has maintained a 3.28 GPA majoring in Hawaiian Studies and Communication.
Tavai's campus and community service activities reflect his values rooted in the Hawaiian culture and language, which he credits with helping him grow extensively as a humble individual. He participated in the restoration of the Hale O Lono fishpond in Keaukaha, along with the UH Hilo Hawaiian Club/Kipuka Mala and Waipi`o clean-ups, and assisted the Kamehameha Schools Teacher Induction Program and Kele Kanahele, master Ni`ihau shell maker.
His commencement speech will be delivered in both Hawaiian and English.
For more information on Commencement, contact Mary Ann Tsuchiyama at (808) 974-7555 or email commence@hawaii.edu. For special accommodations, contact Susan Shirachi at (808) 933-0816 (V) or (808) 933-3334 (TTY). Requests should be made at least 10 business days prior to the event.