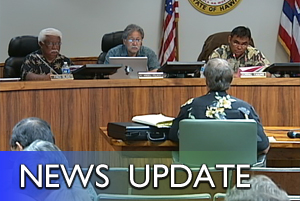 By David Corrigan and Stephanie Salazar
[Video by David Corrigan]
HILO, Hawaii: Just in time for the holidays!
There could be a gift that you don't know about, waiting for you to simply put in your claim.
Its possible that you have unclaimed property, being held by the state of Hawaii – which collects and holds abandoned and dormant property, just waiting for you to pick it up.
This was the message at the Hawaii County Council Finance Committee earlier this week, during this presentation.
To see if you have unclaimed property at the State of Hawaii, simply follow this link: www.ehawaii.gov/lilo/ap
Each person needs to check the Unclaimed Property Search webpage for their name using last name, and first and possibly middle initial
Businesses should search for every conceivable spelling and abbreviation of their name including titles of departments. Zero balances indicate something other than cash (e.g. safety deposit boxes, stock, etc…)