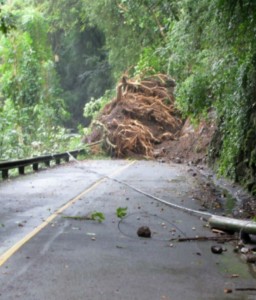 [Video by Charlie Hazelton]
Ookala, Hawaii: As heavy rains batter the east side of Hawaii Island, landslides are becoming a problem on the Hamakua Coast.
This raw video shows a huge mass of dirt, rock and trees covering one of the roadways in Ookala.
According to Charlie Hazelton, who filmed this footage, it rained almost 9″ in the town over the weekend, and the volume of rain along with the high winds caused the hillside to give way along one of the two entrances to the small town.
Hazelton says the landslide took down a power line and covered the roadway.
On Monday, road crews were hard at work, cutting trees and removing debris. The road has been shut down until it is cleared and the hillside can be assessed for stability, Hazelton reports.
Earlier on Monday, the Hawaii County Police Department issued warnings to motorists that landslides had covered the southbound side of the Mamalahoa Highway along the Hamakua Coast, on the both the Maulua and Kaawalii Gulch.