From the County of Hawaii – Office of the Mayor: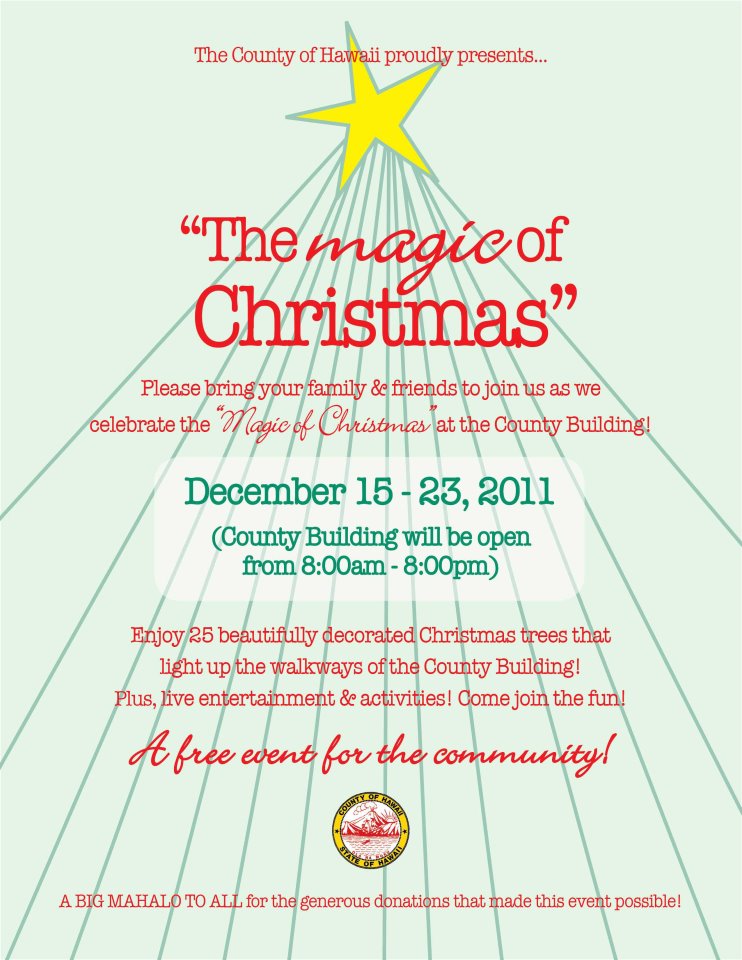 The Magic of Christmas Schedule
"The Magic of Christmas" display is located at the Hawai'i County building at 25 Aupuni Street in Hilo. It is free and open to the public daily at 8am and closes at 8pm. with live entertainment starting at 5p.m. nightly.
Please share this information and encourage friends and family (and strangers too) to come by and view this lovely holiday display that features 33 beautifully decorated trees. The trees were decorated by county employees from the various departments. Mahalo to all the entertainers who generously donated their time and talent to make this a special event for our island community.
If you have any questions call Desiree Cruz at 961-8507.
Tuesday Dec. 20
5pm. Braddah Waltah Aipolani
6pm. Kuahiwis
7pm Jeri Gertz
Wednesday Dec. 21
5pm. Darlene Ahuna
6pm. Halau Kou Lima Nani E
7:15 Boni and Doug
Thursday Dec. 22
5pm. Andrew Stevens Group
6pm. Yisa Var
7pm. Ol' School
Friday Dec. 23
5pm. Victor Chock
6 pm. Island Harmony