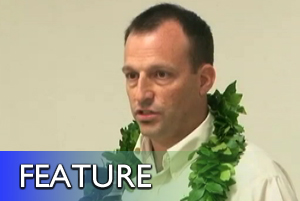 By David Corrigan, Lynn Biettel, and Stephanie Salazar
[Video by Lynn Biettel, Visionary Video]
KEALAKEKUA, Hawaii: State Senator Josh Green gave the keynote speech on "health care transformation in America and what it means to West Hawaii" during a talk story at Kona Community Hospital on Monday.
Senator Green spoke about the importance of the subject matter, especially in light of the recent hospital closings on Oahu.
Green also spoke about the recent passage of the so called Obamacare health industry reform.
Green also said that it is going to be up to us to assume personal responsibility to alleviate some of the pressure on hospitals' resources.
The state senator said that it will be important to find ways to provide incentive for physicians to relocate to this remote, rural setting
Senator Green will be taking part in more talk stories in the coming days. He will be joining State Representative Cindy Evans and Denny Coffman at the Old Kona Airport on Tuesday night at the Kona Town Meeting.
Media release from Kona Community Hospital:
The Kona Community Hospital (KCH) Auxiliary met on Monday, January 9 for its annual general membership meeting featuring guest speaker, Senator Josh Green, M.D. It drew a crowd of 60 attendees.

As the current Health Committee Chair and Emergency Physician at Kohala Hospital , Green discussed today's healthcare climate, as well as the key bills in the new legislative session. He also talked about the challenges and opportunities that rural health facilities face. He excitedly said, "Volunteers such as you make a difference at our hospitals."

Joy Nelson, Volunteer Hours Chair and Past-President, presented volunteer pins to those who met milestone volunteer hours. Kathy Golitzen, who knits newborn baby hats for the Obstetrics department, was the volunteer with the most hours at 1112. In 2011, the total number of volunteer hours provided by the Auxiliary was 8652 which equates to a contribution of $184,807 in services.

The newly elected 2012 officers consist of President Mary Quinn, Vice-President Pat Fornatano, Recording Secretary Beverly Page, Corresponding Secretary Phyllis Hanson, Treasurer David Clarke, and Directors – Christine Hoffman, JoDee Humme, Roger Knoblauch, Jean Leitch, Lorraine Miller and Joy Nelson. The Volunteer of the Year Award was given to both Ralph Jackson and Kathy Golitzen.

With 52 active volunteers, the KCH Auxiliary is the largest volunteer organization at the hospital. There are numerous volunteer opportunities such as helping in the infusion center to assisting in office work. They coordinate the Recycling Program, Gift Shop, Friday Bake Sale, and more. Monies go toward hospital activities and nursing scholarships. For more information, call 322-4577 or go to www.kchauxiliary.org.

Founded in 1914, KCH is a 94-bed full-service hospital with 24-hour emergency services that supports the west region of the island of Hawaii . It is a member of the Hawaii Health Systems Corporation, a special agency of the state of Hawaii established in 1996. It is fully accredited by the Joint Commission on Accreditation of Healthcare Organizations.

Kona Community Hospital is dedicated to providing and enhancing accessible comprehensive healthcare services to the West Hawaii community.
Jan. 10, 2012:
[FMP poster="https://www.bigislandvideonews.com/media/2012/01january/0122green.jpg" width="280″ height="153″]https://www.bigislandvideonews.com/media/2012/01january/0111green02.mp4[/FMP]
EDITOR'S NOTE: The video to the right aired a few days after this video.
On Tuesday, we reported on the January 10th keynote speech given by West Hawaii's State Senator Josh Green before a crowd at the Kona Community Hospital.
Senator Green spoke mostly about healthcare transformation in America and what it means to West Hawaii… and after the talk, he spoke on camera about the largest challenge facing health care on Hawaii Island.
Luckily, Senator Green is in the a position to directly affect change at the legislature. He told us what he thinks the future holds for health care on the Big Island.
The 2012 session of the Hawaii State Legislature begins on January 18th.