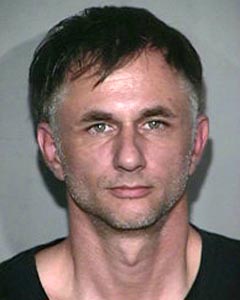 By David Corrigan and Stephanie Salazar
[Video courtesy Hawaii County Police Department]
KONA, Hawaii: We have an update on the brazen robbery that took place recently at the Keauhou Store in Holualoa… a break in the case.
Police say that thanks to tips from the public, they have arrested one suspect in connection with the robbery.
Last week, detectives from the Area II Criminal Investigations Section located and recovered the white 1998 Jeep Wrangler Sahara associated with the January 12 Keauhou Store robbery. They arrested 41-year-old Roger Rasmussen of Kailua-Kona, who police say is the registered owner of the jeep. Over the weekend they charged Rasmussen with accomplice to robbery. His bail was set at $50,000.
However, police say they are still seeking the primary suspect. Police ask that anyone with information on this man's identity or whereabouts call Detective Walter Ah Mow at 326-4646, extension 238, or the Police Department's non-emergency line at 935-3311. Police again advise the public not to approach him, as he is considered dangerous and possibly armed.
Tipsters who prefer to remain anonymous may call Crime Stoppers at 961-8300 in Hilo or 329-8181 in Kona. All Crime Stoppers information is kept confidential.
Also: Police thank the public for their assistance.